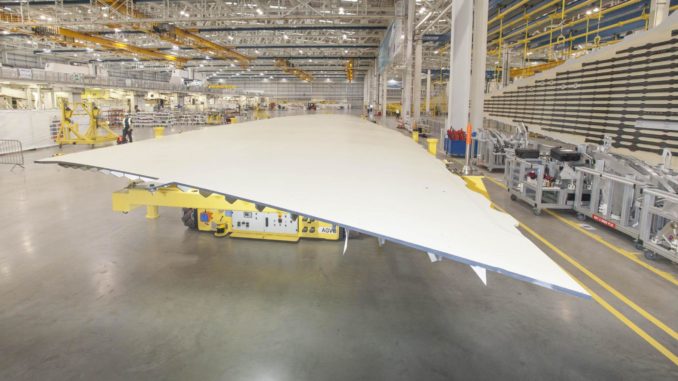 Airbus has today started production of the new wing for the Airbus A350-1000 XWB aircraft at Broughton in Flintshire, North Wales.
Measuring 32 metres long and 6 metres wide it is the largest carbon fibre wing ever made for a commercial airliner. It was designed by Airbus in Bristol and features a redesigned trailing edge to make it more efficient and to provide for the increased load over the smaller A350-900 model.
Airbus state that the wing helps make the Airbus A350 XWB the quietest and most efficient in its class thanks to what Airbus call "droop nose" leading edge devices and "adaptive drop-hinged" flaps. The A350 can also deflect it's flaps during high speed cruise to streamline the wing profile and adapt to the load of the aircraft.
The Airbus A350-900 entered service in January 2015 with Qatar Airways who are also the launch customer for the A350-1000. So far 169 orders have been placed for the bigger -1000 model compared to 589 for the -900 and 16 for the smaller -800.