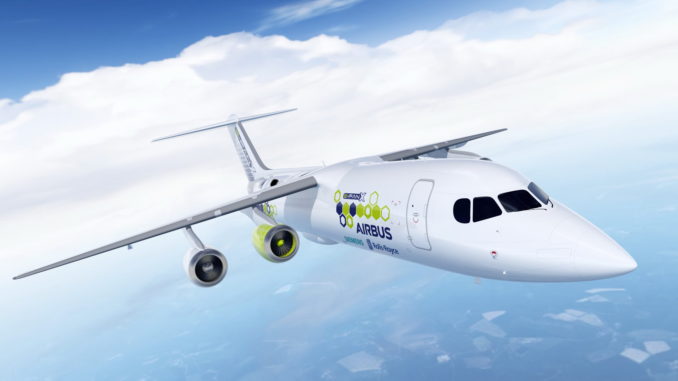 Airbus, Siemens and Rolls-Royce have teamed up to develop a hybrid aircraft featuring an electric engine as part of a move towards cleaner aviation.
The groundbreaking collaboration will see the firms put an electric engine alongside 3 conventional jet engines on a BAe146 flying test bed.
Airbus is no stranger to working towards cleaner skies with it already having several test programs underway in the Clean Skies 2 research program. Current projects include Laminar Flow wings which are being tested on an Airbus A340 "BLADE" Demonstrator.
The group aims to fly the technology demonstrator as early as 2020 with commercial applications entering service in 2025.
The project known as E-Fan X will feature a jet-powered turbine which will power a 2 mega-watt (mw) generator designed by Rolls-Royce. That generator will in-turn power two megawatt electric motors provided by German company Siemens.
One of the biggest barriers to electric-powered aircraft is weight. Rolls-Royce said that they wanted to integrate as many components as possible in order to make the system as light as possible.
Airbus' chief technology officer, Paul Eremenko said: "The E-Fan X is an important next step in our goal of making electric flight a reality in the foreseeable future. The lessons we learned from a long history of electric flight demonstrators, starting with the Cri-Cri, including the e-Genius, E-Star, and culminating most recently with the E-Fan 1.2, as well as the fruits of the E-Aircraft Systems House collaboration with Siemens, will pave the way to a hybrid single-aisle commercial aircraft that is safe, efficient, and cost-effective," adding "We see hybrid-electric propulsion as a compelling technology for the future of aviation".
Siemens will also deliver the power electronic control unit, as well as the inverter, DC/DC converter, and power distribution system.