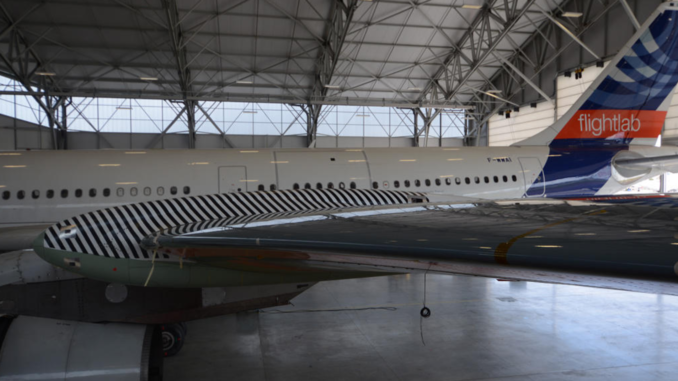 Airbus is preparing the A340 Blade aircraft for its first flights to test a breakthrough new wing with a laminar profile to help reduce fuel usage and increase efficiency.
The Blade (Breakthrough Laminar Aircraft Demonstrator in Europe) is no stranger to testing as it is the 25-year-old A340-300 prototype MSN0001, registered as F-WWAI. In order to test the laminar profile wing, it has had 9m sections of each wing replaced with the two special outboard sections manufactured by Saab (port) and GKN Aerospace (starboard).
The idea of laminar flow profiles is that they are shaped in such a way that the air flows parallel and uniformly over the top of the wings as long as possible. The technology has been used in the glider industry for a long time but is only just starting to be used in commercial aircraft. The Boeing 787-9/10 models have a hybrid laminar flow control system incorporated into their design.
Dan Jangblad, head of Saab business area Industrial Products and Services said "Our expertise in aerodynamics and carbon fibre composites has been crucial in the development of the wing panel. A great deal of effort has gone into improving the wing's aerodynamic properties in order to maintain the laminar flow and ensure less drag and reduced fuel consumption. We have also been able to reduce weight and cost by using the latest knowledge in composite design and manufacturing"
For Laminar profiles, it is important that they are extremely smooth with precisely finished surfaces. This means building wings without rivets or other factors that could disrupt the airflow. This, in turn, reduces both fuel consumption and CO 2 emissions. Airbus says it expects fuel savings of up to five percent for short-haul aircraft.
The test is part of the Clean Sky project which is the largest European research programme developing innovative, cutting-edge technology aimed at reducing CO2, gas emissions and noise levels produced by aircraft.
The laminar technology is expected to be used to develop new wings for Airbus aircraft which are made at Airbus Broughton in North Wales.
The A340 Blade is currently undergoing final ground tests at Tarbes in Southern France and is expected to fly around 150 hours to test the wing. You can follow the flights on FlightRadar24 here https://www.flightradar24.com/data/aircraft/f-wwai