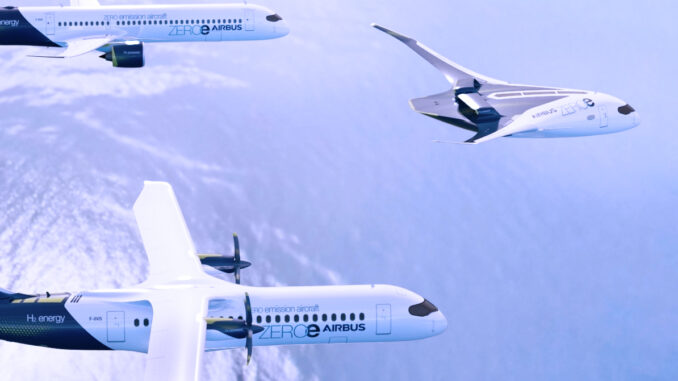 Airbus is launching the Zero Emissions Development Centre (ZEDC) to strengthen its presence in the UK and boost hydrogen fuel system innovation.
One of ZEDC's first priorities will be to develop the "cost-competitive cryogenic fuel systems" which will be needed for the Airbus ZEROe project which aims to put a zero-carbon airline into service by 2035.
The UK ZEDC has been made possible thanks to the guaranteed £685m fund from the UK Government to aid the development of zero-carbon and ultra-low-emission aircraft technology.
ZEDC will be based at Airbus' Filton site in Bristol and technology development has already started. The site will cover the full product and industrial capabilities from components up to whole system and cryogenic testing.
Sabine Klauke, Airbus Chief Technical Officer said: "Establishing the ZEDC in the UK expands Airbus' in-house industrial capabilities to design, develop, test and manufacture cryogenic hydrogen storage tanks and related systems for the ZEROe project across Airbus' four home countries. This, coupled with our partnership with ATI, will allow us to leverage our respective expertise to realise the potential of hydrogen technology to support the decarbonisation of the aviation industry,"
Airbus already has ZEDCs in Nantes, France; Madrid, Spain and Stade & Bremen in Germany.