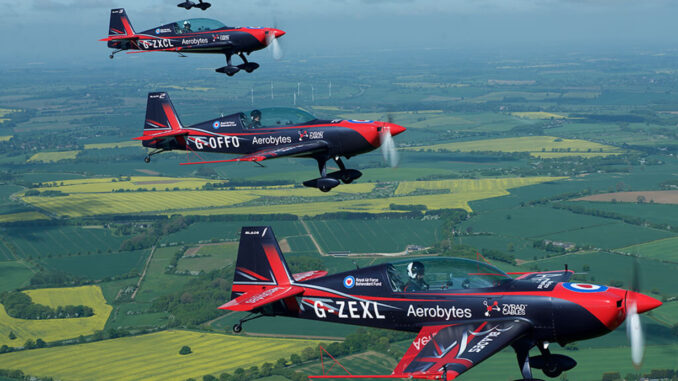 2Excel Aviation has confirmed that 2022 was the last full season of operations for The Blades Aerobatic team which has been a popular addition to many air show display lists since their 2006 debut.
One of the reasons cited is the "continued degradation of the air show circuit, with more and more events being lost, meaning fewer opportunities to display and showcase our sponsors to the public."
2Excel says it did not take the decision lightly as the team has been an iconic part of the company since it was founded and throughout its expansion.
Former Red Arrows leader and 2Excel's co-founder and Director Andy Offer said: "The Blades will live on in spirit – our legacy to the air show world – and in the collective memory of our highly valued sponsors, our supporters and the legions of people who've both watched the Team from the ground and those who have taken flight on our Unforgettable Experience days to enjoy close formation aerobatics or become part of the Blades Flight Club.
"It's been our greatest pleasure to entertain everyone and to provide once-in-a-lifetime experiences. As one of the original Blades' pilots, I had the privilege to lead the Team for several years. The concept emerged from the many requests I had during my time in the Red Arrows to take members of the public flying. That was impossible due to the restrictions on flying civilians in military jets. But it made us realise there was potential to provide the experience of a lifetime by taking paying passengers aloft for close formation aerobatics.
"During the 17 flying seasons the Blades delivered, millions of people saw the team display and thousands have ridden onboard our aircraft. We owe a great debt of gratitude to every one of them. But, most importantly, we must pay tribute to the pilots who have flown with the team and to the ground staff who supported them over the years – especially to those who delivered the final season in 2022 with The Blades' traditional professionalism and flair. They will be missed."
The Blades Aerobatic team has featured many former Red Arrows pilots including Mike Ling, James McMillan and the first female Red Arrow pilot, Kirsty Murphy.