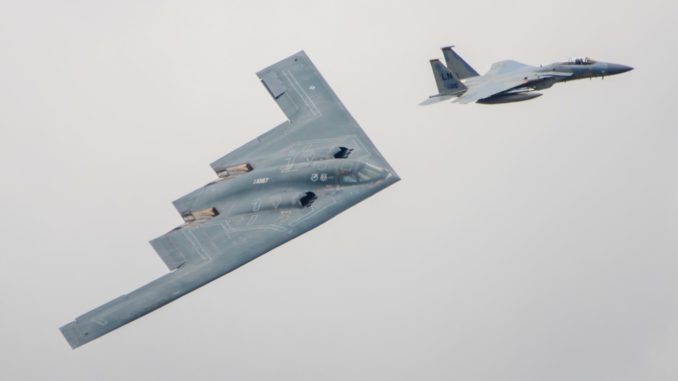 The Royal International Air Tattoo is the World's biggest military airshow and this year did not disappoint which participating air forces coming from far and wide, and a surprise visitor too!
Held each year at RAF Fairford in Gloucestershire, The Royal International Air Tattoo (RIAT) invites air forces from around the globe to join them for 3 days of air displays, friendship and to raise money for the RAF Charitable Trust.
Each year it has a main theme and this year was 70 years of the US Air Force (USAF) which saw flypasts from USAF KC135 Tankers, F-15 Strike Eagles, F-16 Fighting Falcon and a rare appearance from the B2 Spirit Stealth Bomber. In addition to the flypasts, the crowd was treated to a display from the latest 5th Generation fighter, the F-22 Raptor. Built by Lockheed-Martin the Raptor uses vectored thrust to move in physics-defying ways through the sky.
The US Air Force also provided a first-class turn out on the static display line showing off their air power in the form of the mighty B52 Stratofortress, Rockwell's B1-B Lancer supersonic long-range bomber and the venerable Lockheed U-2 ultra-high altitude reconnaissance aircraft that had flown in from a live mission just days before.
Not to be outdone, the Royal Air Force (RAF) also put out a good show of force being their home turf. The RAF displayed their latest generation of aircraft including the Eurofighter Typhoon and its predecessor, the Tornado. Amongst other RAF aircraft on display was the infamous Chinook with its twin rotors.
Crowds seeking displays were not disappointed either with aerobatic displays from the RAF's Red Arrows, Royal Jordanian Falcons, Finlands Midnight Hawks, Patrouille Suisse and making only their 2nd visit to RIAT, America's ambassadors in blue, the USAF Thunderbirds in their F-16 Fighting Falcons. The t-birds put on a display of precision formation flying intersected with high speed passes all eloquently played out in the commentary by Capt. Sara Haper aka Thunderbird 12.
As The Royal International Air Tattoo invites Air Forces from around the world it often offers the chance to see aircraft that you would rarely get to see and this year offered a bumper selection including F-4E Phantoms of the Hellenic Air Force, SU-27 Flankers from Ukraine and an Australian E-7A Wedgetail. Other countries that sent aircraft included Austria, Belgium, Canada, Czech Republic, Denmark, France, Germany, Ireland, Italy, Japan, Jordan, Netherlands, Pakistan, Poland, Qatar, Slovenia, Spain, Sweden and Turkey.
As with all air shows, the weather is a factor and visitors on Saturday had to contend with rain and low cloud which led to the cancellation of some aspects of the flying display but Sunday definitely made up for it with blue skies opening up after a cloudy start.
The ground displays though can keep visitors very busy with over 1 1/2 miles of static aircraft, trade stands and exhibitors. One such display was Wales's own Mark Petrie and his BAe Strikemaster who was appearing on behalf of BAe Systems. The aircraft which is operated by North Wales Military Aviation Services Ltd has proved very popular on the display circuit and is becoming a common sight.
Covering RIAT is always a pleasure because there is simply so much to see and do there for visitors of all ages. Sure the main aim is the flying displays but there are always exhibitors from many other industries to visit and lots of interactivity for the younger ones who once again, we're able to visit for free!
It's easy to see why people travel, not just from all corners of the UK, but all corners of the globe to visit the Royal International Air Tattoo so who not add it to your must-do list!
[espro-slider id=2865]