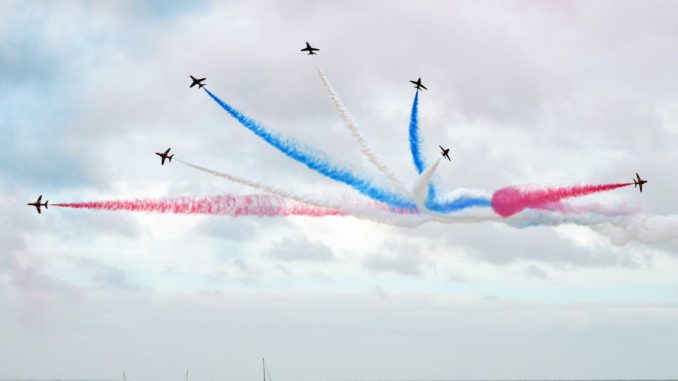 It's time once again for the annual Wales National Airshow at Swansea Bay in South Wales.
The free event takes place on Saturday 30th June and Sunday 1st July in Swansea Bay giving spectators on the beach a stunning aerial display.
This year show features The Red Arrows and the RAF Eurofighter Typhoon display alongside crowd favourites Lauren Wilson (formerly Richardson) in her Pitts Special and Swansea based Team Raven.
Grounds open at 10 am on both days and the flying display times are as follows.
Saturday
12:30 Falcons Parachute Display Team
12:54 Team Raven
13:11 Aerosuperbatics Wing Walkers
13:30 Gyro Display Team
13:42 P51 Mustang
13:56 Lauren Wilson Pitts special
14:08 RAF tutor
14:44 Richard Goodwin Pitts Special
15:31 RHHF Sea Fury
15:43 Bremont Great War team
15:57 Chinook team
16:11 Tiger Parachute
16:35 Battle of Britain Memorial Flight
16:56 RAF Typhoon
17:15 RAF Red Arrow
Sunday
12:00 RAF Red Arrows
12:30 Lauren Wilson Pitts Special
13:41 Falcon Parachute Display Team
13:04 Bremont Great War Team
13:17 Aerosuperbatics Wing Walker
13:35 P51 Mustang
13:48 RHHF Sea Fury
14:00 Battle of Britain Memorial Flight
15:03 Gyro Display Team
15:14 RAF Grob Tutor
15:25 Richard Goodwin Pitts Special
15:39 Team Raven
16:18 Chinook Team
16:31 RAF Typhoon
All flight times are subject to operational changes.