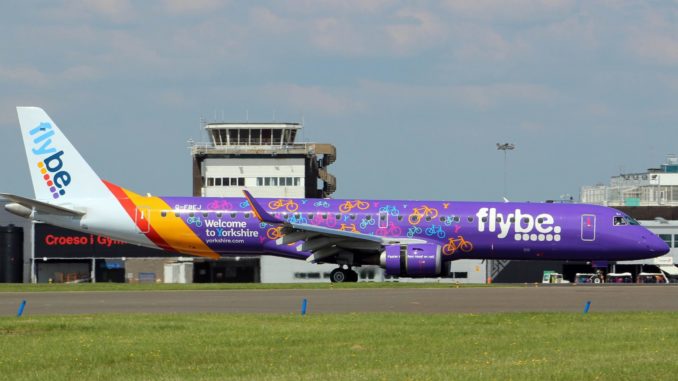 On the 18th July 2002 British European officially rebranded to Flybe when the airline relaunched as a low-fares, full-service airline. So today, we look at how the airline started and what the future holds for the Exeter based carrier.
British European started out in 1979 as Jersey European following the merger of Intra Airways and Express Air Services. Operating as Jersey European for 22 years, there growing route network lead to the replacing of Jersey with British officially becoming British European in June 2000.
The airline established itself in the UK domestic, European and Channel Islands market offering scheduled full-service flights.
Just 2 years later, with the rise of Low-Cost Carriers, the airline decided to rebrand itself as a low-fares airline but maintaining the full-service aspect setting it apart from its orange and blue rivals. To reflect that, the airline rebranded from British European to Flybe on this day in 2002.
Operating from bases around the UK including Cardiff Airport (CWL/EGFF), Flybe has grown to become the largest independent regional airline in Europe flying a fleet of 85 aircraft made up of Embraer E175 & E195 aircraft along with Bombardier Dash 8 Q400 and ATR 72-600.
Flybe operates to 85 airports across 9 countries including France, Austria, Croatia, Bulgaria, Germany, Hungary, Italy, Portugal & Spain from airports across UK & Ireland.
The last decade hasn't been without problems though for Flybe. The airline has had to implement a phase of cost-cutting and restricting following losses totalling £20m (pre-tax) in the last financial year. Previous years have also seen heavy losses for the carrier including a £36m loss in 2015.
Flybe does have a clear plan though, it is decreasing capacity at some airports as it returns E195 aircraft to their lessors as Flybe plans to focus on its more profitable routes.
They are also exploring more codeshare options giving it the ability to offer onward connections to its customers from European hubs.
Some routes at Cardiff are in doubt after being excluded from the current winter schedule. This includes the Cardiff to London City route which isn't currently available after October 28th. Flybe, however, has previously stated that no decision on the future of the route has been made.
Flybe has openly stated that the London City air link is very much a use-it-or-lose-it route so what the future holds will be unveiled in the coming weeks or months.
But for now, let's say Happy Birthday Flybe. 15 today!
To celebrate, Flybe is offering customers 15% off flights booked in the next 24hours using code FLYBEIS15