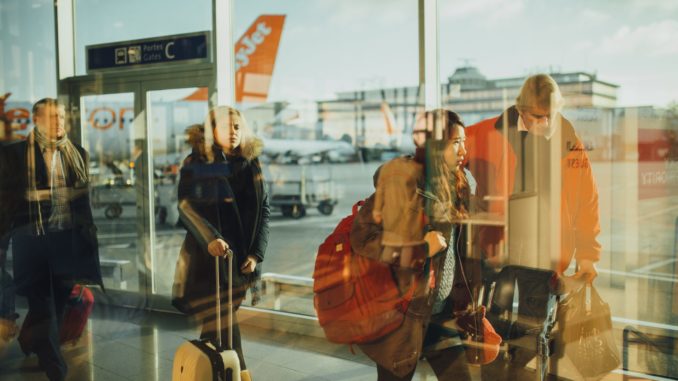 Easyjet has launched Worldwide by easyJet, the first global connections service by a low-cost airline
Designed to be a disruptive force in air travel Worldwide by Easyjet offers a simpler alternative to the costly and complex codeshare agreements of legacy airlines. Now passengers can connect with airline flights by launch partners  Canada's WestJet and Norwegian using the GatwickConnects service at London Gatwick airport.
Easyjet intends to sign up other international carriers to "Worldwide" at other key easyJet airports and it will also sell stand-alone tickets on behalf of partner airlines on easyjet.com.
Loganair, Scotland's airline, is a launch partner for this facility, which will enable customers to book onward flights for example into the Highlands and Islands from easyJet flights into Glasgow and Edinburgh
Carolyn McCall, easyJet's CEO explained the strategy behind Worldwide by easyJet: "Around 70m passengers flying through an easyJet airport each year are connecting onto other flights, mainly long haul, and it is this market segment that Worldwide by easyJet will open up for us."
Peter Duffy, Chief Commercial Office for easyJet, commented: "The way we have designed Worldwide by easyJet means that we can profitably access a major new pool of customers without undermining easyJet's operating model and punctuality."
"We know there is a real customer demand for making flight connections on easyJet easier.   Almost 200k easyJet passengers a year already self-connect their easyJet flights through Gatwick Airport.  That's c.1% of our passengers at the airport and that doesn't include those connecting between easyJet and long haul flights.
GatwickConnects
GatwickConnects is a world-first airport booking service that lets passengers seamlessly book connecting flights with different airlines in a single transaction. Launched in 2015, GatwickConnects gives the airport's 1.7 million yearly self-connecting passengers more choice and value by allowing them to easily combine a wide range of non-interlined flights provided by 10 different airlines at Gatwick, while also insuring against any missed connections (replacement flights, hotels and meals). The service also takes the strain out of making a connecting flight, with GatwickConnects bag drop desks located in the airport's baggage reclaim halls so that passengers' luggage can be put directly on the onward flight and customers can go straight through security without checking their bag in again.
Worldwide by easyJet won't impact on easyJet's punctuality or operating model. The airline will not hold flights for connecting passengers. Worldwide by easyJet is subject to a 2 hour 30 minute 'Minimum Connection Time', which will give customers plenty of time to transfer between flights and/or terminals. Should a passenger miss a connecting flight they will be transferred to the next available flight.
Easyjet, with this move, seems to have stolen a march on Ryanair, its low-cost rival, which was reportedly interested in establishing a similar arrangement with major airlines including Norwegian.
Ryanair, however, has been able to reveal a deal with Air Europa to connect with long-haul flights through Madrid.
Find out more about Worldwide by easyJet.