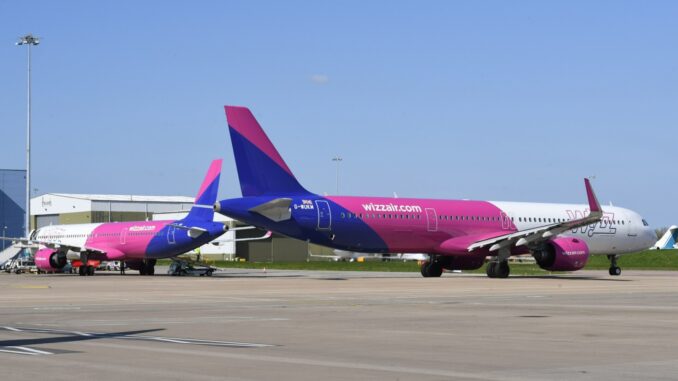 European and UK based Wizz Air has been awarded Global Environmental Sustainability Airline Group of the Year for the second consecutive year at the Centre for Aviation (CAPA) Asia Aviation Summit.
The award recognise airlines, airports and suppliers who are putting climate change at the forefront of their business models and is independently researched by CAPA's Analysts and carbon reduction strategists, Envest Global.
Wizz Air achieved the award for what CAPA says is its unwavering commitment to sustainability. The European ultra-low-fare airline operates one of the youngest aircraft fleets in the world with the lowest carbon intensity among competitor airlines.
The airlines carbon emissions intensity amounted to 53.8 grams per passenger/km in fiscal year 2023, which is an 11% reduction to the previous fiscal year.
Wizz Air achieved this by investing heavily in its fleet and replacing older aircraft with the latest technology, Airbus A320neo family aircraft, which deliver a 20% reduction in CO2 emissions and 50% in noise and nitrogen oxide emissions.
József Váradi, Chief Executive Officer at Wizz Air, said: "It is a great honour to receive the CAPA Global Environmental Sustainability Award for the second consecutive year. This is a testament to the hard work and dedication of Wizz Air's team and our commitment to further reduce CO2 intensity by 25% by 2030.
"Our ultra-low-fare model has proven to be sustainable by design: we operate the latest technology aircraft in the most efficient way, with the lowest emissions per passenger per km in the industry. We have also made significant investments in SAF, both securing volumes for the mandates that are coming in 2025 in Europe and helping bring new technologies to life. We are proud to be leading the charge towards a more sustainable air travel and setting standards for the industry."
CAPA – Centre for Aviation, said: "For the second year in a row Wizz Air has been awarded the CAPA Global Environmental Sustainability Airline/Airline Group of the Year. Wizz Air's top ranking in the benchmarking report is due to their unmatched sustainability strategy that has resulted in the airline embracing a young, fuel efficient and high-capacity fleet across its network, along with investing in sustainable aviation fuel (SAF) research and use, and ongoing training efforts with staff.
"The ultra-low-fare-focused Wizz Air emerged from the COVID-19 pandemic as one of the clear winners in Europe. While travel overall in Europe remains below pre-pandemic levels, with many airlines yet to rebuild their networks and operation, Wizz Air has not only managed to outstrip the growth of most peer airlines, but also to grow its overall traffic by more than a third. The airline has displayed adaptability and flexibility during the COVID pandemic, as well as in its response to the ups and downs of the travel recovery period.
"As travel continues to re-emerge in Europe, Wizz Air will only continue to take a leading role in this process and expand its commitment to sustainability. The airline is also refining its own business and operating model, seeking to improve performance when it comes to flying, financial health and customer service."