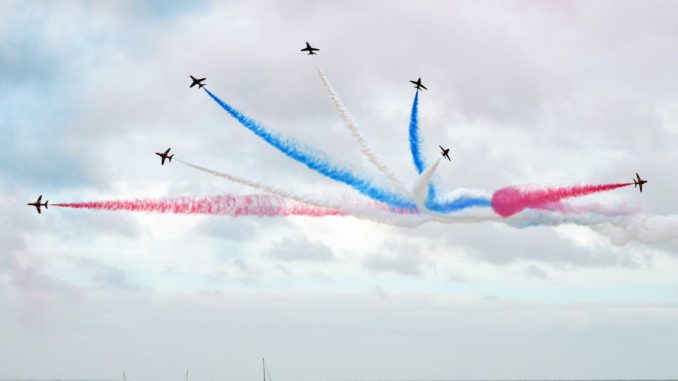 The now annual Wales National Airshow will take place around Swansea Bay on the weekend of the 1st & 2nd of July. Like last year, the organisers have released a mobile app which is the only way to see the times on the day.
But after last-minute flying display releases and complaints in previous years, is this years offering worth the purchase?
The app itself is available for Android and iOS phones (sorry windows fans, no joy!) and costs £1.99. If you bought last years app then you are entitled to upgrade to this years offering free of charge.
On first launch of the app, you are greeted by a big sponsor splash screen which you have to view for 5-6 seconds before going into the main app which then presents you with a screen to choose whether you want English or Welsh (Cymraeg). Definitely a plus point for any app based at the Welsh market!
Once in the app you have the a menu allowing you to choose the following sections to view:
Live Updates – the latest aircraft attending the event
Latest News – Latest news about the event
Display Times – This section should become live around the 28th June 2017
Aircraft and Ground Display Bios – Bios of the teams and aircraft involved on the ground and in the air
Social Hub – links to the official Twitter and Facebook feed
Visitor Information – Information on attending the airshow
Vouchers – Special offers from sponsors
About the App & Settings – The usual app content.
It has to be said that whilst the app doesn't contain anything ground-breaking such as interactive features for use during the show (maps etc.) it does do a good job of keeping you up to date on whats happening with the airshow and by presenting all the information about the participants in one place.
The first version we had annoyingly displayed ads within the app, something you don't expect from a paid app but a recent update appears to have got rid of that, perhaps an "oversight" by the developers.
Overall the app is decent companion if you are planning to attend the event however whilst most airshows offer their app for free, it's rather surprising that Swansea Council have chosen to charge, especially when they have clearly charged companies to sponsor the app.
We have been using the app for just over a week now and have had no problems with it (using on Android 7.1 & iOS 8) so have no grumbles in that department, it is well laid out and navigation is straight forward.
It's only £1.99 they will say but that's £1.99 for an app many will only ever use once.
iOS App https://itunes.apple.com/us/app/wales-airshow/id1109429666
Android App https://play.google.com/store/apps/details?id=com.app.q8435FG