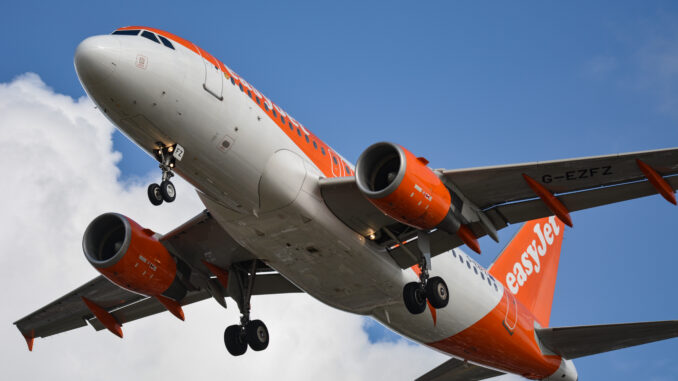 Aviation fuel specialist Q8Aviation has signed a deal with low-cost carrier easyJet (U2/EZY) to supply it with Sustainable Aviation Fuel (SAF).
The five-year-long agreement will see Q8Aviation supply easyJet with fuel that will help reduce the carbon used in aviation fuel and help it work towards the airline's target of net-zero by 2050.
Q8Aviation General Manager Naser Ben Butain says: "We welcome the opportunity to extend our relationship with easyJet through the supply of Sustainable Aviation Fuel. We are thankful for easyJet's continued support and looking forward to assisting them in meeting their carbon reduction objectives. We understand the need for airlines to secure SAF supply to meet their 2025 SAF commitments and we look forward to helping more of our customers achieve this."
2021 saw easyJet operate the first flights out of Gatwick Airport (LGW/EGKK) using a blend of Jet A1 and SAF which was also supplied by Q8Aviation in partnership with Neste MY SAF.
David Morgan, Chief Operations Officer, at easyJet, added: "easyJet has today published our net zero roadmap which shows how easyJet can get to net zero by 2050. Using SAF forms an important part of that plan, and so we are pleased to confirm that we have contracted all SAF volumes reflected in the roadmap for the next five years with our fuel partner Q8Aviation. We will continue to use SAF as required, until our fleet has been fully transitioned to zero carbon emission aircraft, to achieve material lifecycle carbon emissions reductions in comparison to kerosene and look forward to putting this in place with Q8Aviation."
What is SAF?
Sustainable aviation fuel or SAF is a fuel made from sustainable resources, such as forestry, and agricultural waste or used cooking oil.
This can then be blended with conventional aviation fuel to create a lower-carbon jet fuel.
The advantage of SAF is that no modifications are needed to the aircraft as it is a "drop-in" fuel in the same way as conventional Jet A1.
SAF can result in a carbon reduction of up to 80% in the fuel.