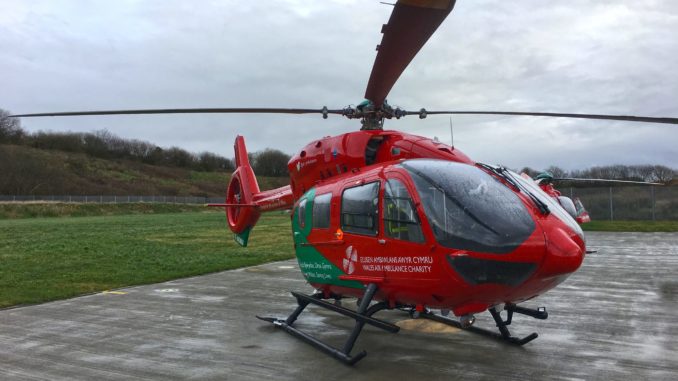 Wales Air Ambulance Charity (WAAC) will feature on national TV and Radio as part of the NHS at 70 celebrations.
WAAC has been at the cutting edge of Air Ambulances since it began and provides life-saving helicopter medical services across Wales.
It has bases at Dafen near Llanelli, Caernarfon, Welshpool and Cardiff with a dedicated children's air ambulance based at Cardiff Heliport.
The charity will feature in the following programmes today:
BBC1 – Lip-sync project
An NHS-wide project involving a very humorous lip-sync video to Jess Glynne's song Hold my hand. HTP's Andrew Morris and Steffan Simpson of Helimed67 (Children's Wales Air Ambulance) kindly volunteered to take part and feature in the video. We will be sharing the video on our social media today and it will also air LIVE this evening on BBC1 Wales straight after Wales Today at 18:55. It's also on YouTube here: https://youtu.be/2vSOXx7EPG4
ITV Cymru Wales News
Featuring a piece on patient Mandy Draper who was airlifted by Helimed 57. Along with Dr Ian Bowler and CCP Ben Seabourne, Mandy will feature in the ITV Wales News on Thursday 5 July. The item will air during the Wales at 6 programme from 18:00. It will also feature in the late news bulletin at 22:30 (approx.) This will also be available for 24 hours on the ITV Hub catch-up service.
BBC Radio Wales
During the NHS70 celebrations on Thursday 5 July, Radio Wales will be broadcasting some of their output LIVE from the University Hospital of Wales, Cardiff. CEO Angela Hughes and operations manager Mark Winter will feature as guests live on the Wynne Evans show sometime after 11:30am. The show will also be available on BBC iPlayer radio shortly after 13:00 on the same day.
Watch a Wales Air Ambulance helicopter take off from its base