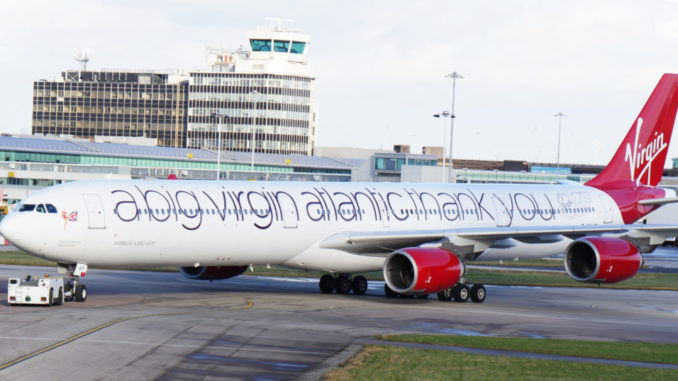 Virgin Atlantic (VS/VIR) has brought a stored Airbus A340 "Sleeping Beauty" back into its fleet to meet capacity whilst it awaits new aircraft to join the fleet.
G-VNAP, An Airbus A340-600 known as "Sleeping Beauty" left the fleet in 2015 and was sent to Tarbes, France for storage where it remained until last December when it was flown to Manilla to make it ready for its re-entry into service.
After some maintenance and cleaning it was flown to Manchester (MAN/EGCC) where it received a special livery courtesy of CAE Parc Aviation & Air Livery. Now named "Sleeping Beauty Rejuvenated" it is back in full Virgin livery complete with a champagne wielding Varga girl, only the second time it's been used!
Virgin Atlantic took the opportunity to say thank you to the 9000 people around the world that keep Virgin Atlantic flying with the special livery which says "A Big Virgin Atlantic Thank You" in a billboard along the fuselage.
Virgin Atlantic CEO, Craig Kreeger, told Virgin's Ruby Blog: "We wanted to take the opportunity to do something special with this aircraft to recognise all the hard work that goes on day in and day out across Virgin Atlantic and Virgin Holidays, so the 'big Virgin Atlantic thank you' message is for every one of our 9,000 people. Paired with the special edition of our iconic Flying Lady, we hope we've created something our people can feel proud of, which is also eye-catching and fun for our customers."