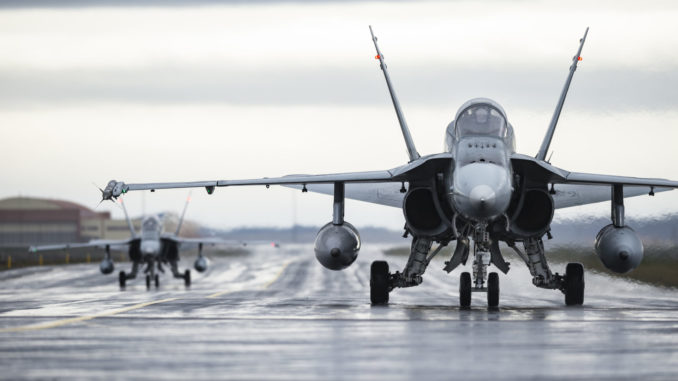 The Ministry of Defence has said it is withdrawing from Canada's Future Fighter Capability Project (FFCP) along with Airbus Defence and Space and has informed the Canadian Government accordingly.
The project will see Canada purchase 88 advanced fighter aircraft in order to maintain Canada's defence policy, Strong, Secure, Engaged; as well as its obligations to the North American Air Defense (NORAD) and NATO partners.
The combined team from the UK MOD and Airbus Defence and Space had planned to put forward the Eurofighter Typhoon but following a detailed review of Canadian Request for Proposal, the Typhoon Canada team decided to withdraw.
Amongst the reasons cited include the high cost of meeting NORAD's security requirements for manufacturers and repair chains that sit outside the United States and Canada, what is known as the '2-EYES community'.
Another reason was given was that "both parties concluded that the significant recent revision of industrial-technological benefits (ITB) obligations does not sufficiently value the binding commitments the Typhoon Canada package was willing to make, and which were one of its major points of focus."
Following the decision to withdraw, Simon Jacques, President of Airbus Defence and Space Canada, said: "Airbus Defence and Space is proud of our longstanding partnership with the Government of Canada, and of serving our fifth home country's aerospace priorities for over three decades. Together we continue in our focus of supporting the men and women of the Canadian Armed Forces, growing skilled aerospace jobs across the country and spurring innovation in the Canadian aerospace sector."
The Royal Canadian Air Force currently operates the CF-18A/B Hornet as its frontline fighter of which it has 85 currently in service.
Aircraft still in the competition are the Swedish Saab Gripen E and USA's Lockheed Martin F35 Lightning II.
The first aircraft to be delivered under the FFCO is expected to enter service in 2025 with the aircraft serving Canada's interests beyond 2060.