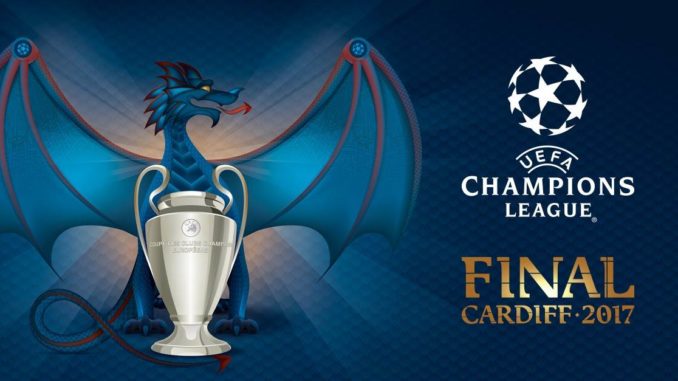 With the Champions League Final in Cardiff just days away, Cardiff Airport has been busy preparing for what could turn out to be the busiest week in its history. That's why we've produced the ultimate guide to Cardiff Airport & the Champions League Final.
With over 400 extra movements on the airfield and around 24,000 fans expected to use Wales' National Airport its going to be a big draw for aviation enthusiasts and plane spotters too!
So what is the Champions League Final all about…
The UEFA Champions League Final is taking place in Cardiff on the 3rd June 2017 between Real Madrid and Juventus. As a result around 170,000 people are expected to visit the Welsh Capital.
Extra aircraft will start ferrying staff and fans in from Thursday the 1st June. Across the 1st, 2nd, 3rd & 4th June around 400 extra movements are expected at Cardiff Airport. Bristol Airport is also expecting a large number of extra flights.
Both the Juventus and Real Madrid teams along with their management will arrive on June 2nd ahead of the match at the National Stadium of Wales.
The UEFA Womens Champions League Final also takes place in Cardiff on Thursday 1st June at Cardiff City Stadium.
Speaking about the event Cardiff Airport's Chief Executive, Deb Barber said "We are immensely proud to play our part in the 'Team Wales' approach to the delivery of this major event. Cardiff Airport's role in the Champions League Final has been some 12 months in the planning with the support of a number of key agencies to ensure that air transport plan is robust, effective and of course safe and secure."
Where can I view the aircraft…
Cardiff Airport has announced an official viewing area which is situated in the overflow car park at the top of Rhoose Road. There will be no food or drink vendors however toilets are being provided. Rhoose Road is closed to traffic so it is recommended that you use public transport such as parking in Barry and getting the train to Rhoose, or parking at Rhoose Train Station. Police say restrictions on parking in Rhoose village will be in place across the 4 days.
There are of course multiple unofficial viewing areas including Porthkerry & the fenceline near the Highwayman Inn. Check out SpotCWL.com for maps and information.
I'm flying from the airport during this, will I be affected…
The airport is going to be much busier than normal so you need to allow yourself extra time for traffic and parking. All scheduled flights will be operating as normal and the airport does not anticipate any delays.
There are several road closures that you need to be aware off for the Champions League Final and fixed routes in and out of the airport if you are dropping people off or picking up.
Most fans will be using the temporary Terminal 2 which has been set up especially for this event so shouldn't affect those travelling though the airport on scheduled flights.
What aircraft are expected…
A large variety of aircraft are expected into Cardiff from Madrid, Turin, Milan, Rome, Paris Orly and Lyon. Highlights include an Alitalia Boeing 777-200 and an Azores Airlines Airbus A310. There is also expected to be a large array of Business Jets arriving although many will also go to Gloucestershire Airport. Unfortunately St Athan misses out by being forced to close for 3 days due to airspace management issues. This means all General Aviation traffic arriving for the final will go to Cotswold Airport (Kemble).
The Latest Arrivals List (updated regularly)
Thursday 1st June
AIGLE AZUR
ZI959
Paris Orly(ORY)
10:00
Cardiff(CWL)
 11:00
AIR FRANCE
AF4004
Lyon(LYS)
10:40
Cardiff(CWL)
 11:40
AIGLE AZUR
ZI927
Paris Orly(ORY)
13:55
Cardiff(CWL)
 14:55
AIR NOSTRUM
YW2010
Madrid(MAD)
14:05
Cardiff(CWL)
22:45
A320
Friday 2nd June
AIR NOSTRUM
Madrid(MAD)
13:00
Cardiff(CWL)
14:15
CRJ1000
RYANAIR
FR5089
Madrid(MAD)
11:10
Cardiff(CWL)
12:20
B738
RYANAIR
FR5090
Cardiff(CWL)
12:45
Madrid(MAD)
15:45
B738
VUELING
VY7756
Rome(FCO)
21.15
Cardiff(CWL)
22:45
A320
ALITALIA
Milan(MXP)
04:00
Cardiff(CWL)
05:00
A320
MALETH AERO
Madrid(MAD)
06:00
Cardiff(CWL)
07:00
B733
ENTER AIR
Madrid(MAD)
06:00
Cardiff(CWL)
07:00
B738
ERNEST AIRLINES
Milan(MXP)
06:55
Cardiff(CWL)
08:00
A319
COBREX
Madrid(MAD)
10:00
Cardiff(CWL)
11:05
B733
MERIDIANA
Milan(MXP)
10:00
Cardiff(CWL)
11:05
B762
ALITALIA
Milan(MXP)
13:00
Cardiff(CWL)
14:00
A330
Saturday 3rd June
VUELING
VY7758
Rome(FCO)
00:25
Cardiff(CWL)
01:55
A320
VUELING
VY7756
Rome(FCO)
07:50
Cardiff(CWL)
09:20
A320
VUELING
VY7769
Milan(MXP)
08:15
Cardiff(CWL)
09:20
A320
VUELING
VY7791
Milan(MXP)
08:50
Cardiff(CWL)
09:55
A320
VUELING
VY7773
Turin(TRN)
09:40
Cardiff(CWL)
10:45
A320
VUELING
VY7771
Milan(MXP)
13:50
Cardiff(CWL)
14:55
A320
VUELING
VY7757
Rome(FCO)
14:30
Cardiff(CWL)
16:00
A320
VUELING
VY7793
Rome(FCO)
14:50
Cardiff(CWL)
16:20
A320
VUELING
VY7775
Turin(TRN)
15:25
Cardiff(CWL)
16:30
A320
AIR LUBO
Madrid(MAD)
06:00
Cardiff(CWL)
07:10
MD83
MERIDIANA
Milan(MXP)
06:30
Cardiff(CWL)
07:30
B762
AIR HORIZON
Milan(MXP)
07:10
Cardiff(CWL)
08:15
B734
CARPATAIR
 V32616
Milan(MXP)
09:30
Cardiff(CWL)
10:30
F100
AZORE AIRLINES
Madrid(MAD)
10:35
Cardiff(CWL)
11:35
A310
ALITALIA
Milan(MXP)
12:05
Cardiff(CWL)
13:05
A320
 MISTRAL AIR
 M48901
 Milan(BGY)
Cardiff(CWL)
 04:50
 ALITALIA
 AZ9542
 Catania(CTY)
Cardiff(CWL)
  02:55
 ALITALIA
 AZ9525
 Bologna(BLQ)
Cardiff(CWL)
 04:40
 ALITALIA
 AZ9510
 Turin (TRN)
Cardiff(CWL)
 05:00
 ALITALIA
 AZ9520
 Milan (MXP)
Cardiff(CWL)
 05:00
 BLUE PANORAMA
 BV880
 Milan(MXP)
Cardiff(CWL)
 05:55
 ALITALIA
 AZ9506
 Rome (FCO)
Cardiff(CWL)
 06:35
 BLUE AIR
 0B9761
 Turin (TRN)
Cardiff(CWL)
 06:45
 ALBASTAR
 AP5641
 Milan (BGY)
Cardiff(CWL)
 04:50
 ALBASTAR
 AP5965
 Verona (VRN)
Cardiff(CWL)
 06:55
 ALITALIA
 AZ9529
 Turin (TRN)
Cardiff(CWL)
 07:35
 ERNEST AIRLINES
 EG8014
 Milan (MXP)
Cardiff(CWL)
 07:50
 ALITALIA
 AZ9519
 Turin (TRN)
Cardiff(CWL)
 08:40
 CZECH AIRLINES
 OK6728
 Milan (MXP)
Cardiff(CWL)
 08:30
 ALITALIA
 AZ9508
 Turin (TRN)
Cardiff(CWL)
 08:40
 ASTRA AIRLINES
 A2910
 Turin (TRN)
Cardiff(CWL)
 09:20
 ALITALIA
 AZ9502
 Turin (TRN)
Cardiff(CWL)
 10:20
 TITAN
 ZT7121
 Turin (TRN)
Cardiff(CWL)
 10:20
 ALITALIA
 AZ9511
 Turin (TRN)
Cardiff(CWL)
 10:35
 ALITALIA
 AZ9521
 Turin (TRN)
Cardiff(CWL)
 10:40
 ALITALIA
 AZ9535
 Turin (TRN)
Cardiff(CWL)
 10:50
 ALBASTAR
 AP5747
 Milan (MXP)
Cardiff(CWL)
 10:50
 MISTRAL AIR
 M48063
 Rome (FCO)
Cardiff(CWL)
 12:00
 ERNEST AIRLINES
 EG8015
Turin (TRN)
Cardiff(CWL)
 12:45
 BLUE PANORMA
 BV882
 Milan (MXP)
Cardiff(CWL)
 12:45
 ALITALIA
 AZ9527
 Rome (FCO)
Cardiff(CWL)
 13:00
 SUNDIAL
 LG2064
 Milan (MXP)
Cardiff(CWL)
 13:00
 ALITALIA
 AZ9538
 Turin (TRN)
Cardiff(CWL)
 13:15
 TITAN
 ZT7125
 Turin (TRN)
Cardiff(CWL)
 13:30
 ALBASTAR
 AP5863
 Milan (MXP)
Cardiff(CWL)
 14:00
 ALITALIA
 AZ9509
 Verona (VRN)
Cardiff(CWL)
 14:15
 TITAN
 ZT7123
 Turin (TRN)
Cardiff(CWL)
 14:20
Sunday 4th June
VUELING
VY7756
Cardiff(CWL)
02:00
Rome(FCO)
05:30
A320
VUELING
VY7774
Cardiff(CWL)
02:55
Turin(TRN)
06:00
A320
VUELING
VY7770
Cardiff(CWL)
03:00
Milan(MXP)
06:05
A320
VUELING
VY7780
Cardiff(CWL)
04:05
Milan(MXP)
07:10
A320
VUELING
VY7758
Cardiff(CWL)
06:40
Rome(FCO)
10:10
A320
VUELING
VY7768
Cardiff(CWL)
08:25
Rome(FCO)
11:55
A320
VUELING
VY7780
Cardiff(CWL)
08:35
Milan(MXP)
11:40
A320
VUELING
VY7776
Cardiff(CWL)
08:40
Turin(TRN)
11:45
A320
VUELING
VY7784
Cardiff(CWL)
09:55
Rome(FCO)
13:05
A320
VUELING
VY7762
Cardiff(CWL)
14:35
Rome(FCO)
18:05
A320
Monday 5th June
VUELING
VY7754
Cardiff(CWL)
01:50
Rome(FCO)
05:20
A320
RYANAIR
FR5089
Mardid(MAD)
17:15
Cardiff(CWL)
18:15
B738
RYANAIR
FR5090
Cardiff(CWL)
18:40
Madrid(MAD)
21:40
B738
Useful Websites