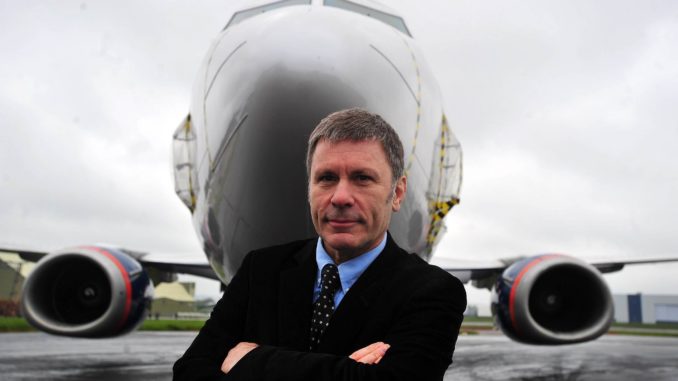 St Athan based Maintenance Repair Operation (MRO) Cardiff Aviation is making 25 redundancies as work continues to dry up. Staff have also not been paid again this month.
The move was announced by Managing Director Martyn Anderson who said that the downturn in work was "more significant than anticipated".
Cardiff Aviation, whose Chairman is Iron Maiden front-man Bruce Dickinson, has been subject to increasing scrutiny recently after it emerged it had failed to pay its rent bill for the St Athan Twin Peaks hangar for over 4 years. It has since reached an agreement with the Welsh Government.
Last month it was unable to pay staff with Mr Dickinson having to dip into his own pocket to partially pay staff. The pay issues are once again in place this month with staff being told they will get half their pay tomorrow. The problem with paying staff led to one company withdrawing its stock storage at Cardiff Aviation.
Cardiff Aviation was set up in 2012 with help from the Welsh Government. It promised to bring around 1000 jobs to the Vale of Glamorgan but has failed to reach even a quarter of that figure and engineers have recently been recruited on a temporary basis with only 6 month contracts being offered.
Some staff we spoke to have left secure jobs at nearby British Airways Maintenance Cardiff (BAMC) on the promises made by Cardiff Aviation but now find that their jobs in jeopardy at St Athan.
UK Airlines Easyjet & Monarch both tried the out Cardiff Aviation but withdrew work almost immediately as they were unhappy with the work. Movements through the facility show only a handful of aircraft in 2016 came to Cardiff Aviation from external companies with even less arriving this year so far.
Mr Dickinson has laid partial blame with the Welsh Government claiming that they were losing work due to the Instrument Landng System (ILS) not being operational at St Athan, this means aircraft cannot arrive in bad weather or low visibility. No airline has cited this as the reason for withdrawing work.
There appears to be an internal management wrangle going on at the moment with a source telling us that Managing Director Martyn Anderson wants the MRO operation of Cardiff Aviation to be seperated and independent of the other parts of the company such as the leasing & training business. This could mean Mr Anderson bringing in his own investor whilst Mr Dickinson however is seeking an investor for all aspects of the business.
The situation has left staff stuck in the middle with no clue as to the future of the company, or their employment.
Cardiff Aviation is based in the Welsh Governments Aviation Enterprise Zone and received funding from Finance Wales to set up. In addition to the new rent deal it receives the maximum amount of business rates relief.