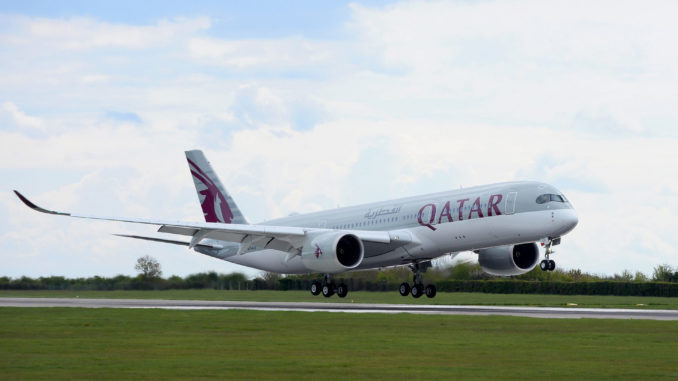 FIrst flight from Cardiff to Doha - the view from onboard.
A little over a year ago, Qatar Airways and Cardiff Airport announced a new route from Cardiff to Doha, Qatar, with onward connections to over 150 destinations worldwide, including New Zealand, Australia, China, Thailand and India. The 1st May 2018 saw all the years of hard work by the teams at Cardiff Airport and Qatar Airways come to fruition with the launch of the new service on a 1 week old Airbus A350 (A7-ALU)  – the wings of which are built in Wales. The service, however, will normally be operated by the Boeing 787-8 Dreamliner. The announcement of the route has been hailed as a 'game changer' not only for Cardiff Airport but a huge boost for Wales and the South West of England's economy due to a large amount of freight the aircraft can take and the amount of inbound tourism it will bring.
As a huge 'avgeek' and supporter of Cardiff Airport's growth and development, I couldn't resist flying to Doha on the inaugural service.
Having booked the flight quite last minute, it was only a matter of hours before I could check in for my flight. Qatar has a very handy 48 Hour online check-in. As a lover of app's, I promptly downloaded the Qatar Airways app and logged in using my reference number. I had to go through the usual security questions however before I knew it, I had my boarding pass added to my Apple Wallet. Seat 35A for the QR324 CWL-DOH.
I pre-booked parking at Cardiff Airport in the 'Long Stay 2' carpark. It cost around £20 for 24 hours of which I thought was reasonable. (And yes, my trip was only for 24 hours!) There was a free bus to take you to the Terminal, however, it took around two minutes to walk it.
Immediately as I arrived at the terminal, there was a totally different feel. The airport felt fresh, the staff were clearly very excited about the day ahead and the future, and the airport was busy. Granted, it was the first day of the busy summer schedule, however, there was a real buzz – something the airport has lacked in recent years.
The check-in area for the Qatar flight at Cardiff is branded with the standard Qatar signage and barriers. There are separate desks for business passengers, economy passenger and ticket sales. Qatar Airways ground staff also coordinate the flow of passengers and offer assistance to those in need.
For the inaugural flight, the check-in team were giving out free gifts – however, as I had checked in online, I did not go to the desk.
A short walk from the check-in area upstairs sees you arrive at the brand new security screening area. Even though it was busy, the staff were incredibly friendly, engaging, super efficient but thorough. Something I found refreshing as many airports seem to neglect to give their security teams any customer service training. This high level of customer service continued throughout the airport.
Following a smooth experience in security, you now get greeted with the welcoming and fresh walk through duty-free shop provided by Nuance. Although the shop is comparatively small to say Heathrow Terminal 3, is perfectly functional with everything that you could possibly need. There is a range of tobacco and alcohol, perfumes, clothes and accessories and a good range of Welsh gifts including Penderyn Whiskey.
Coming out the other end, you arrive at the main departure hall at Cardiff. At the far end is the Beer House serving a range of beverages and pub type food. Adjacent to the Beer House is Cafe Ritaza serving Coffee and snacks. Opposite Cafe Ritaza is the brand new Costa Coffee. Having only opened a few weeks ago, it seemed to be proving very popular with travellers.
I accessed the newly expanded 51' Executive lounge at the airport using my Priority Pass. It's a service I pay for and gives me access to lounges all over the world complimentary.
The lounge has comfortable seating, free WiFi and a range of snacks, tea, coffee, soft drinks and alcohol (although alcohol is not self-serve) all complimentary. Without a pass, it costs £20 to access. I would definitely recommend it. Lounge access is a nice way to unwind before flying and also gives the opportunity to catch up on last minute work.
Walking to the lounge meant me having to walk through the new departures extension and take a look at the new WH Smith and Well Pharmacy. The Pharmacy is within the WH Smith shop, however, is more than adequately stocked. Nail varnish, sun cream and basic medicines can be found here.
It was in this new part that I first saw the A350 waiting.
Our gate came up 1 Hour prior to our departure. This is standard for Qatar however boarding doesn't start at this time. Knowing that there would be quite some fanfare at the gate, I made my way down promptly to participate. Upon arrival, we were greeted by balloons and free drinks. Once I had my boarding pass scanned, I took a seat and was offered some traditional Qatari food from a gentleman offering it around.
Boarding for the flight started in good time by Qatar Airways 'zone' system. On your boarding pass, it states what boarding zone you are in. I was towards the back and sat in zone one. Zone one boarded first.
The A350 is configured with a Business Class cabin and Economy cabin, the latter is arranged in a 3-3-3 configuration. The aircraft is fitted with the Latest 'Oryx One' in-flight entertainment system. It is touch screen and even has a contactless card reader for in-flight duty-free purchases. The Dreamliner normally operating the service has a slightly older, yet equally as good IFE system. Both systems have hours of content ranging from TV shows, classic and modern movies, outside cameras and hours of music.
Once the aircraft was boarded, the captain, originating from Scotland, made an announcement. He gave details of the flight and made special acknowledgement to the inaugural service.
Pushback commenced a few minutes later and the multilingual safety demonstration was shown on the TV screens. Being a small airport, it was just a short taxi to runway 30 at Cardiff. The aircraft pulled onto the runway and before long the aircraft was filled with the almighty whisper of the Roles Royce XWB engines. The aircraft was given a 'Brecon 1A' departure meaning an early right hand turn to the north of Cardiff and more or less following the M4 towards London.
Once in the air, the crew continued the 5* service. The crew expressed nothing but professionalism, quality and top notch customer service. A bar round was completed before the meal service.
The crew had handed out menus prior to our departure – the had photos of Cardiff Castle as their front page. This gave me time to consider what I was going to have. The options were BBQ chicken or a beef stew. I chose the chicken.
It was very tasty and the tray accompaniments were excellent as well. There was a cheesecake,  salad and warm bread roll.
Following lunch, it was time to settle into the 6:45 flight. Now was a perfect time to get acquainted with the Oryx One system. It is very user-friendly and responsive.
After some movies and rest, it was time for the second album and bar service. There was a choice of a vegetarian sandwich or a chicken sandwich and a chocolate muffin. I chose the chicken sandwich. It was nice and warm and tasted good. I also had a coffee to accompany the sandwich.
All of the waste was promptly cleared and before I knew it, we had started our initial descent from 43,000 feet towards Doha.
We touched down on schedule and taxied to our parking stand at the brand new Doha Hamad International Airport. The airport is built on reclaimed land and consistently wins awards.
Upon disembarkation, the crew were all very friendly in wishing us well without continuing journeys and saying thank you for flying Qatar Airways.
Once inside the airport, passengers get split into those transiting the airport onto other flights or those needing to clear immigration and head into Doha. As I was heading straight back to Cardiff, I needed to go to the transfer desk – along with most other passengers from the Cardiff flight. One gentleman was going to Singapore and other going to Perth.
Cardiff Airport, Qatar Airways and the Welsh Government have achieved something truly amazing with this new service. With one stop, you can be pretty much anywhere in the Eastern Hemisphere. This is a really exciting time for the airport and indeed Wales and the South West, however, the route must be used! Qatar Airways are a true world leading airline and it's so awesome that they fly out of Cardiff. The airport is looking fresh, the staff are incredibly friendly and helpful and super convenient. There is now a frequent bus service into the city and Cardiff Central train station making it easier than ever.
The airline has some excellent fares to destinations all over the world from Cardiff. Gone are the days of Cardiff always being more expensive! Many of the fares have been cheaper than Heathrow.
This service has been provided for us, as it is was we, the people of Wales and the South West have asked for. So go ahead and book!