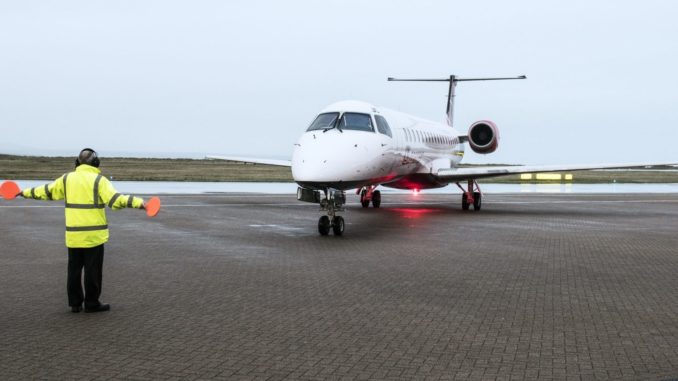 New routes begin from Aberdeen and East Midlands
Loganair's (LM/LOG) latest jet routes have got underway from Aberdeen (ABZ/EGPD) and East Midlands (EMA/EGNX) airports.
Aberdeen's new jet routes to Newcastle (NCL/EGNT) and Norwich (NWI/EGSH) got underway yesterday (1st September) and East Midlands new routes to Inverness and Brussels launched today.
All the routes are being operated by a 49-seat Embraer 145 Regional Jet.
The Aberdeen to Newcastle route sees Loganair directly taking on Eastern Airways which, according to CAA statistics, has a poor reliability record on the city pair.
In 2018, Eastern cancelled almost a quarter of flights between Aberdeen and Newcastle and had an on-time performance of just 65.5%.
Kay Ryan, Commercial Director at Loganair, said: "We're delighted to be further strengthening our hub at Aberdeen Airport, complementing our existing network in the North-East.
"We know our new routes from Newcastle and Norwich are important links for the offshore industry and we're looking forward to delivering a frequent, dependable and rewarding service for those in the industry.
"East Midlands is an ideally positioned airport, providing easy access to major cities across six different counties and these links to Inverness and Brussels will be hugely beneficial to the region."
Given the North East's links to the Oil industry, Loganair has introduced flexible options to help with changes in shifts patterns or adverse weather that impacts upon connecting helicopter flights.
Steve Szalay, Managing Director at Aberdeen International Airport, said: "It's fantastic to have Loganair increasing its presence and capacity at Aberdeen International Airport. The move helps solidify the North East's connectivity to the North East of England and East Anglia; some of the UK's leading off-shore energy regions."
At East Midlands, the decision by Loganair to serve the airport was based around a need and commitment from major industry in the area.
Karen Smart, East Midlands Airport's Managing Director, says: "The addition of Loganair to the existing fleet of operators based at EMA was achieved by working in collaboration with Toyota. Airlines are more likely to want to fly from here if the business case stacks up and, thanks to Toyota's commitment to use it regularly, Loganair were willing to step in and not only fill a vacancy but launch a brand-new route to Scotland for our passengers. This demonstrates what is possible with the right business backing."