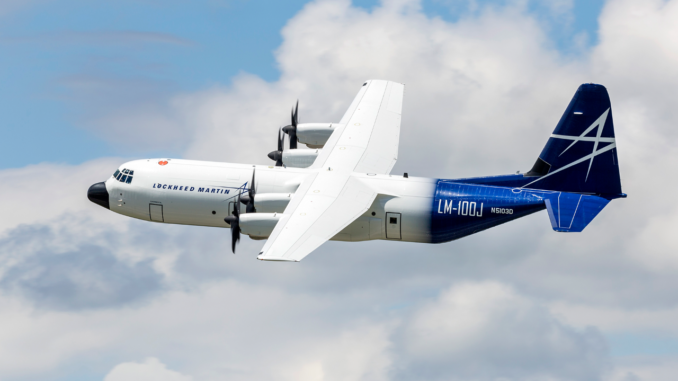 Lockheed Martin has confirmed that the LM-100J Super Hercules will take to the skies at the Farnborough International Airshow 2018.
The LM-100J will participate will be on static display and flying in the shows daily flying schedule. The LM-100J is a variant of the C-130J Super Hercules designed as a commercial freighter.
The Super Hercules is designed as a civil multi-purpose air freighter capable of rapid and efficient transport of cargo and provides an efficient and ideal airlift solution when delivering bulk and oversize cargo particularly to austere locations worldwide.
The new aircraft comes from years of operational experience from the C130 range, the airlift aircraft of choice for many of the worlds military for decades, including the Royal Air Force (RAF) which has only recently started replacing the Hercules fleet.
Lockheed Martin brought many of the features of the C130J to the type including the two-man glass cockpit system and increased performance.
The aircraft is capable of carrying around 23 tonnes of cargo over 2,450miles, 50% more than the previous L100 model.
George Shultz, vice president and general manager, Air Mobility & Maritime Missions programs at Lockheed Martin said: "While the LM-100J is known for its cargo delivery capabilities, the aircraft has been cited throughout industry as the perfect platform for specialized requirements such as firefighting, medevac, aerial spray, and humanitarian relief support
"Farnborough Airshow is the year's premier aerospace industry event and it offers us an ideal opportunity to showcase the LM-100J's unmatched versatility and superior performance to the world."