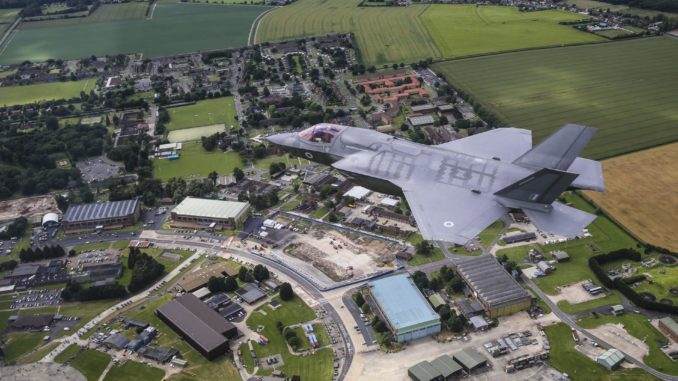 A flypast involving the UK's latest military aircraft, the F-35B Lightning, has been confirmed for the Royal International Air Tattoo (RIAT) which takes place next week.
On Friday the 13th July, the Lightning will take part in a special RAF100 flypast consisting of 50 RAF aircraft. In addition to the Lightning, the flypast will include Typhoons, Tornado GR4s, an A400M Atlas, the Red Arrows, along with Puma and Chinook helicopters and accompanied by the Battle of Britain Memorial Flight (BBMF) Lancaster, Spitfires and Hurricanes. The flypast will take place at around 2:15 pm.
On the Saturday and Sunday  (14th & 15th) the RAF will stage more RAF100 themed flypasts including a diamond nine of RAF Typhoons. There will also be a special '617 Squadron Tribute' of BBMF Lancaster, Tornado GR4 and the new Lightning jet.
The Lockheed Martin F35B Lightning only arrived at its new home of RAF Marham in early June and the newly reformed 617 squadron is in the process of standing-up the aircraft as Britains latest front-line jet.
The Royal International Air Tattoo at RAF Fairford takes place from the 13th to 15th July 2018.