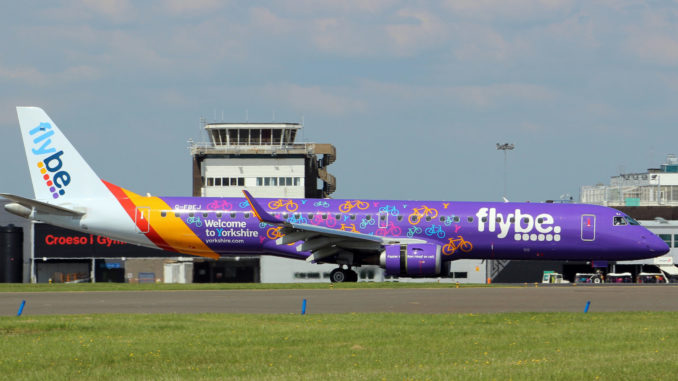 Stobart Group has filed a statement with the London Stock Exchange (LSE) showing it has struggling low-fares airline Flybe on its radar for a takeover.
The statement, which was filed yesterday (22nd February) says that Stobart Group has been "reviewing alternative structures for our airline and leasing business that can play an important part in the consolidation of the regional airline sector."
The statement goes on to say "A number of potential structures have been considered including taking a non-controlling interest in a vehicle to acquire 100% of Flybe likely to be in cash. It is not possible to say, at this stage, whether a transaction will take place, whether a firm proposal will be made or, if it is, the form a transaction to combine the airlines might take."
The news, which has been touted by industry sources for some time, saw the share price of Flybe jump 26% prompting a statement from Flybe insisting no formal approach had been made and advising shareholders not to act on the news.
The airline said "Flybe confirms that it has not received any approach from Stobart Group regarding a possible offer by Stobart Group for Flybe.
"Flybe shareholders are strongly advised to take no action at this stage. There can be no certainty that any firm offer will be made nor as to the terms on which any firm offer might be made."
Flybe has been carrying out a program of restructuring and fleet changes following several years of heavy losses. In October 2017 the airline posted a profit warning after its half-year profits slumped by 47%. The airline blamed this on an "onerous" one-off contract provision and heightened aircraft maintenance costs.
Speaking at the time, CEO Christine Ourmieres-Widener said: "While half-year profits are lower than last year, due to the one-off IT contract costs, higher maintenance expenses and the impact of the fall in the value of sterling, I am confident that we are on a clear path to sustainable profitability through the investments and improvements we are making at Flybe.
"In the second half, we will focus on improving our cost base and reliability performance while preparing the business for the future as we invest in the new digital platform."
Exeter headquartered Flybe (BE/BEE) has bases at Aberdeen, Belfast, Birmingham, Cardiff, Doncaster, Dusseldorf, Edinburgh, Exeter, Glasgow, Manchester and Southampton.
Stobart Air (RE/STK) already operates a number of flights for Flybe under a franchise arrangement but it remains to be seen if Stobart Group or a consortium makes a formal bid for Flybe but it is definitely one to watch.