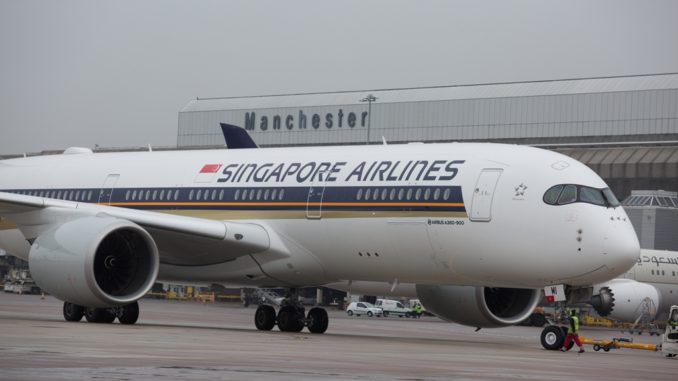 Singapore Airlines is celebrating 1 year of using the Airbus A350 at Manchester Airport (MAN/EGCC).
The state-of-the-art aircraft from European planemaker Airbus first arrived to operate the non-stop Manchester-Houston route on 17 January 2017 and was the first commercial A350 flight from the Airport. The A350 aircraft was a welcome addition to the route which was launched by Singapore Airlines in October 2017.
The A350 takes advantage of a number of technological advancements which make the aircraft quieter, more efficient and more environmentally friendly. The use of composite structures, a revolutionary wing design and new Rolls Royce engines, combine to improve fuel efficiency by 25 per cent.
Sheldon Hee, Singapore Airlines' General Manager of UK & Ireland, commented: "We are delighted to be celebrating the first anniversary of our A350  in the UK and the aircraft's servicing of the non-stop Manchester-Houston and Manchester-Singapore routes.
"Singapore Airlines chose Manchester for the A350's UK home as a commitment to the people and economy of the region. We look forward to continuing working with partners and our loyal customers in the North-West into the future."