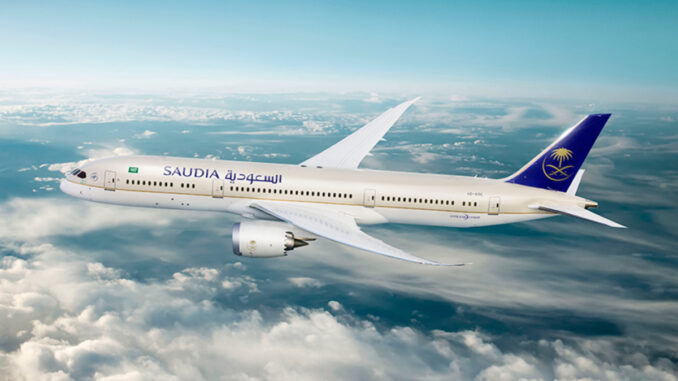 Saudi Arabian carrier Saudia (SV/SVA) says it has operated the worlds-first "net positive" flight between Jeddah and Madrid.
Saudia flight SV227, operated by a Boeing 787-9, had its carbon emissions offset by a factor of 2, a total of 346 tonnes, making the 5hr 55min flight net-positive.
The flight forms Saudia's entry into the Skyteam Alliance's Sustainable Flight Challenge an initiative that sees members find the most sustainable way to operate one of their flights.
"The Kingdom's Vision 2030 will see 100 million visits to Saudi Arabia by the end of the decade", said SAUDIA CEO Capt. Ibrahim Koshy. "A cornerstone of that vision is for the Kingdom to be a leader in sustainable and even regenerative tourism.
"As Saudi Arabia's national flag carrier we have a key part to play in making that happen. As a result, operating the world's longest carbon net positive flight is just the start of an ambitious sustainability program that we will be implementing."
The emissions were offset through CarbonClick which uses the offset to invest in clean energy projects such as Wind Power in India.
"Aviation is a difficult sector to decarbonize. New, more sustainable technologies are emerging, but those advances can be easily outpaced by industry growth," says Michelle Noordermeer, Chief Operating Officer at CarbonClick. "SAUDIA is setting a huge example by showing what can be done now, carbon offsetting, and using quality carbon credits as a powerful way to remove carbon and neutralize the impacts of radiative forcing."
Saudia passengers can also voluntarily pay to offset their carbon emissions when flying with the airline through CarbonClick.