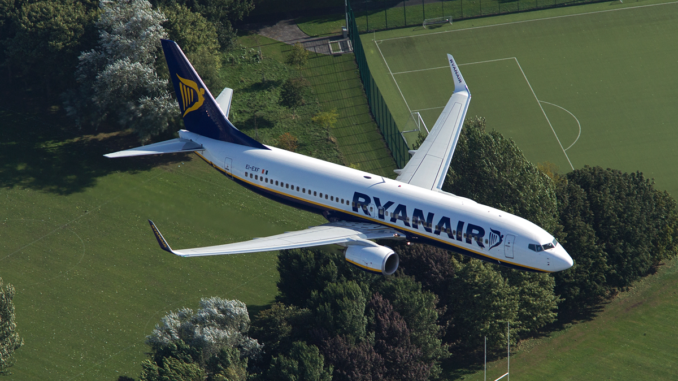 Irish budget airline Ryanair (FR/RYR) has said it is withdrawing its threat to make 300 pilots and cabin crew in Dublin redundant after it reached a resolution with the Irish Airline Pilots Associtation.
The airline said it would transfer 6 Dublin based 737's to its new polish based airline Ryanair Sun. 100 Pilots and 200 cabin Crew were then issued with redundancy notices for October 2018.
At the time Ryanair's Chief operating officer Peter Bellew said: "We regret these base aircraft reductions at Dublin for winter 2018, but the board has decided to allocate more aircraft to those markets where we are enjoying strong growth (such as Poland).
This will result in some aircraft reductions and job cuts in country markets where business has weakened, or forward bookings are being damaged by rolling strikes by Irish pilots".
In a statement, Ryanair said that it had withdrawn the notices on Friday 7th September when the board decided not to restore the aircraft to Dublin.
Ryanair's Chief People Office, Eddie Wilson, said: "The Board of Ryanair today thanked independent mediator, Kieran Mulvey for his contribution in finalising an agreement between Ryanair and just 25% of our Irish pilots. We regret that mediation became necessary after five days of unsuccessful strikes which, despite causing minimal damage to Ryanair's schedules, did damage our forward fares and yields to/from Ireland because of the perception of possible disruptions.
"The Board and management of Ryanair are committed to union recognition, and working constructively with our people and their unions to address their reasonable concerns, as long as this does not alter Ryanair's low cost model or our ability to offer low fares to our customers.
"Since December last year, when the Board announced that we would recognise unions, Ryanair's people have enjoyed significant pay increases, improved terms and conditions, and we have agreed to improved seniority structures, base transfers and annual leave. We have done this in a year when we expect profits to fall by 15% due to a combination of higher fuel prices and higher staff costs."
Directly relating the threats of moving aircraft and redundancies the airline said that the decision was taken "to respond favourably" to the mediation agreement which brought an end to five days of strikes that resulted in hundreds of flights being cancelled.