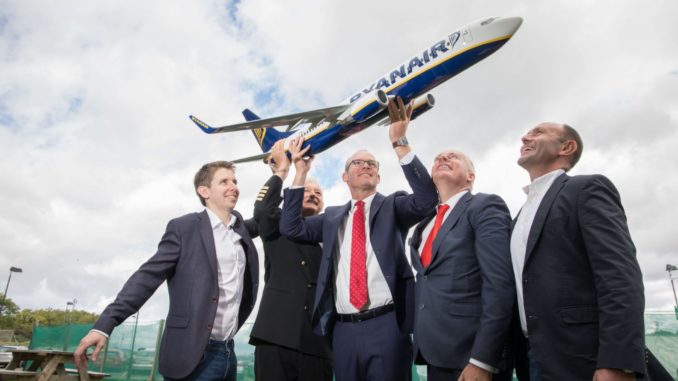 Irish budget airline Ryanair (FR/RYR) has launched what it describes as a "major pilot training programme" to train 450 pilots in Cork.
The airline is partnering with Cork-based flying school, Altantic Flight Training Academy (AFTA), to deliver a Ryanair focused mentored pilot programme, a 16 month intensive training programme designed to help the trainees get their pilots licence before joining the Ryanair 737 type-rating programme.
The training will also focus on Ryanair procedures as they build up to become Ryanair pilots at one of the airlines 86 bases across Europe.
Ryanair says it aims to recruit and train up to 450 pilots this way over the next five years.
Ryanair's Head of Crew Training Captain Andy O'Shea said: "This new Ryanair-AFTA programme will provide the airline with a steady pipeline of talented and professional pilots from around Europe to meet the needs of our growing network. Ryanair will hire up to 1,000 pilots per annum over the next 5 years and our pilots can look forward to unmatched opportunities flying with the world's number one international airline. We have carefully chosen AFTA as our cadet training partner in Ireland due to their high standards in initial flying training and MCC training. We are very pleased to lend our operational expertise to AFTA especially in the provision of what will be an outstanding Airline Pilot Standard MCC. This combination will be the best possible preparation for an airline career with Ryanair."
Managing Director at AFTA, Mark Casey added: "We are delighted to be chosen as the mentored pilot programme partner for Ryanair in Ireland. AFTA has a long-standing relationship with Ryanair and a large number of our graduates currently fly as First officers, Captains, Training Captains and management pilots with the airline. The "Mentored Pilot Programme" will give successful applicants accepted on the Ryanair Mentored Pilot Programme a clear path towards a long and successful career as a Ryanair pilot.. Ryanair's training department is recognised as the best in the industry and mentored Cadets will have access to Ryanair training applications and systems from commencement of training."
The online application for the Ryanair/AFTA Training Programme is now open. For more information and to apply, visit www.afta.ie/ryanair