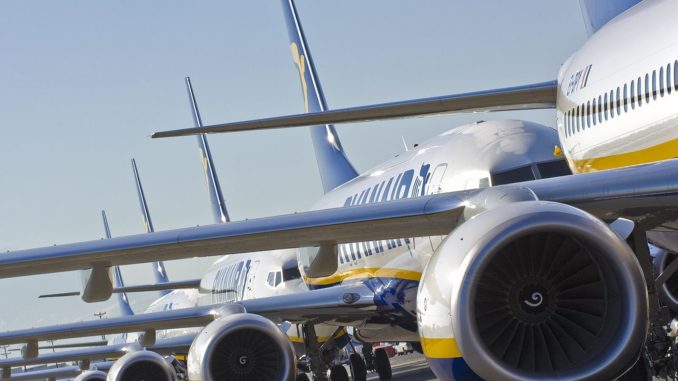 The UK aviation regulator, Civil Aviation Authority (CAA) has given trouble Irish low-fares airline Ryanair until 5pm today to revise its advice to passengers or face further action.
The CAA stepped in on Wednesday when it emerged that Ryanair were deliberately and persistently misleading customers over their rights following the airline cancelling hundreds of flights.
Ryanair have misled customers as to whether they can be rebooked onto another airline with Ryanair informing customers that rebooking them onto another airline wasn't a right and they had to accept a refund.
The CAA has ordered Ryanair to say publicly how it will re-route passengers who require it as well as saying how it will reimburse their out-of-pocket expenses incurred.
The CAA has also said the airline must help those passengers whose flights have been cancelled in the past two weeks, but have chosen an unsuitable option as a result of being misled by the airline.
If Ryanair does not comply with the CAA and publicly change its information it could face an unlimited fine following court action.
The CAA has stated that it is particularly interested with how Ryanair's Call Centre staff have been misleading customers.
Speaking about the latest developments the CAA said "There is still no information here about how expenses will be treated where passengers are re-routed to and/or from other airports or where they otherwise incur additional out-of-pocket expenses as a result of the cancellations."
"Further changes are therefore required to make it clear that any such expenses will be reimbursed by Ryanair".
In addition the CAA has set out that Ryanair must complete the following actions by 5pm on Friday the 4th October:
Send new emails to customers already re-routed or refunded giving "accurate and comprehensive information on their rights and options".
Offer again the option of a refund or re-routing, including one with another airline, and tell them how to make a claim for expenses.
Travellers who have already accepted a refund must be offered a reimbursement of the difference with any higher fare.
Those who have been misled into accepting an unsatisfactory re-routing must be offered the option of changing it.
All the new emails must checked and approved by the CAA.
Has your flight been affected? Check our Ryanair Cancellation Checker