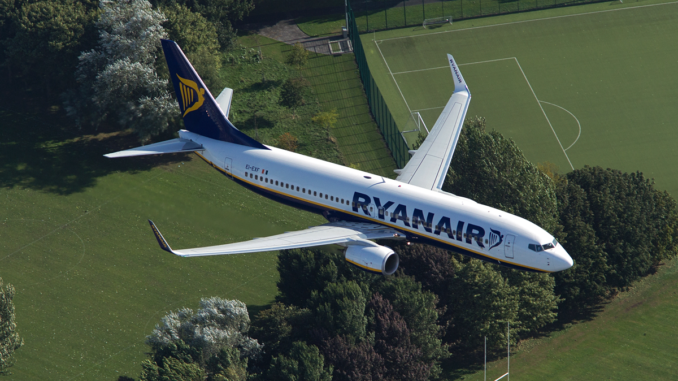 Ryanair (FR/RYR) has revealed it has cut the Carbon Dioxide (CO2) emissions per passenger to just 66g per kilometre (KM).
In figures released by the airline for June 2019 the airline says it flew 14.2m passengers 17,789m km releasing CO2 emissions of 1,167kt making Ryanair the cleanest airline flying in Europe.
In comparison, the average family car releases around 248g of CO2 per km* and the EU's target is 130g per km.
Ryanair says it has achieved this by maintaining high load factors on its flights and by having one of the youngest fleets in aviation. It's all Boeing 737 fleet has an average age of just 6.5 years.
The airline has also published details of the Environmental Taxes it pays in a bid to dispel what it claims is a myth that 'aviation does not pay environmental taxes'.
2018 saw the airline pay €544 in taxes such as Air Passenger Duty in the UK along with its equivalents in other European countries. It expects to pay €630 in 2019.
Ryanair's Kenny Jacobs said: "Ryanair is Europe's greenest/cleanest major airline with the youngest fleet and highest load factors. Our CO2 per passenger/km for June 2019 is 66g, almost half the rate of other flag carrier European airlines. We are also publishing our environmental taxes to dispel the myth that airlines pay no environmental taxes. Ryanair paid over €540m in environment taxes in 2018 and will pay over €630m in 2019 (up 17%). This equates to €4.12 per passenger, which is 11% of Ryanair's average air fare.
"As part of Ryanair's environmental commitment, we are investing over US$20 billion in a fleet of 210 new Boeing 737 "gamechanger" aircraft, which will carry 4% more passengers but reduce fuel burn by 16% and cut noise emissions by 40%."
Reduction of CO2 is one of the key focuses for the Aviation Industry as this this gas is one of the largest contributors to the greenhouse effect which scientists say is raising global temperatures and causing significant climate change.
The latest aircraft have been developed to be ultra-efficient to help reduce carbon emissions and older, less efficient aircraft are being phased out.
Ryanair has 210 of the Boeing 737 Max 200 on order which emits 20% less CO2 than the current 737-800 models.
*Source: EPA.