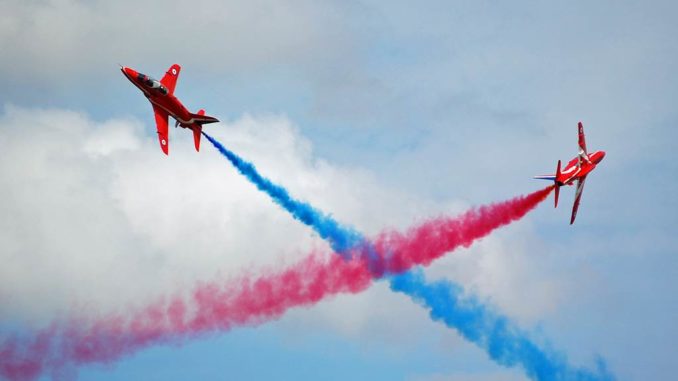 With the Royal International Air Tattoo (RIAT) at RAF Fairford just over a month away we look ahead to Europe's biggest military airshow.
Crowds from across the UK and the rest of the world flock to RAF Fairford in Gloucestershire each year to see the latest military jets and classic heritage aircraft perform in 3 full days of flying displays and to look around the hundreds of aircraft on the ground.
The airshow, which takes place on the 14th, 15th & 16th July, will see around 150,000 people attend over the 3 days.
Tickets for the event must be purchased in advance and are currently available from £39.00.
Highlights for this years show include the USAF Thunderbirds in their F16's flying precision aerobatics and the latest 5th Gen Jets including the F22 Raptor along with heavy bombers such as the mighty B52!
The Red Arrows will be in attendance once again to wow crowds with their aerobatic display along with representatives of the UK's Army Air Corps, Royal Navy and Royal Air Force.
Confirmed Aircraft for RIAT 2017
Australia
Squadron
Type
Royal Australian Air Force
E-7A Wedgetail
2 Squadron
ISTAR
Austria
Squadron
Type
Austrian Air Force
J105Öe
Düsentrainerstaffel
Advanced Trainer
J105Öe
Düsentrainerstaffel
Advanced Trainer
Belgium
Squadron
Type
Belgian Air Component
C-130H Hercules
20 Squadron
Transport
F-16AM
31/349 Squadron
Fighter
F-16AM
31/349 Squadron
Fighter
Sea King Mk48
40 Squadron
Helicopter
Civilian
Squadron
Type
Civilian
A400M
Airbus Defence and Space
Transport
Extra 300L x4
Royal Jordanian Falcons
Aerobatic Team
Grob 120TP
Affinity Flying Services
Trainer
Jet Provost T.5
Jet Aerobatics
Trainer
P-40 Kittyhawk
Hangar 11
Fighter
P-51D Mustang
Hangar 11
Fighter
Phenom 100
Affinity Flying Services
Trainer
T-6C
Affinity Flying Services
Trainer
Czech Republic
Squadron
Type
Czech Republic Air Force
JAS-39 Gripen (x2)
211th Tactical Squadron
Fighter
L-159 ALCA
TBC
Light Attack
L-159 ALCA (x2)
TBC
Light Attack
Denmark
Squadron
Type
Royal Danish Air Force
CL-604
Eskadrille 721
Transport
Finland
Squadron
Type
Finnish Air Force
Midnight Hawks
Hävittäjälentolaivue 41
Aerobatic Team
Finnish Army Aviation
NH90 TTH
2.HK/HekoP
Helicopter
France
Squadron
Type
French Air Force
Alpha Jet x2
TBC
Trainer
Mirage 2000D
Couteau Delta
Demonstration Team
Rafale
Solo Display Team
Fighter
Germany
Squadron
Type
German Air Force
A400M
LTG-62
Transport
Eurofighter EF2000/T
TLG-73
Fighter
Eurofighter EF2000/T
TLG-74
Fighter
Tornado PA200 IDS/ECR
TG-51
Fighter – Ground Attack
Transall C-160D
LTG-61
Transport
German Navy
EC-135
Marinefliegergeschwader 5
Trainer
P-3C Orion
Marinefliegergeschwader 3
Maritime Patrol
Sea Lynx
Marinefliegergeschwader 5
Multi-Purpose
Greece
Squadron
Type
Hellenic Air Force
F-4E Phantom
117 Combat Wing
Fighter
Italy
Squadron
Type
Italian Air Force
C-27J Spartan
TBC
Transport
M-346 Master
TBC
Trainer
Tornado A-200
TBC
Fighter
Jordan
Squadron
Type
Royal Jordanian Air Force
C-130H
3 Squadron
Transport
NATO
Squadron
Type
NATO
E-3A
AEW&CF
ISTAR
Netherlands
Squadron
Type
Royal Netherlands Air Force
C-130H-30
336 Squadron
Transport
Do-228
334 Squadron
KDC-10
334 Squadron
Tanker
Slovenia
Squadron
Type
Slovenian Air Force
Let 410
107.Letalska Baza
Transport
PC-9M
LETŠ
Trainer
PC-9M
LETŠ
Trainer
Spain
Squadron
Type
Spanish Air Force
EF-18AM Hornet x2
TBC
Fighter
Sweden
Squadron
Type
Swedish Air Force
JAS 39C Gripen
TBC
Fighter
JAS 39D Gripen
TBC
Fighter
Switzerland
Squadron
Type
Swiss Air Force
F-5E Tiger II
Patrouille Suisse
Aerobatic Team
United Kingdom
Squadron
Type
Army Air Corps
Defender 4000
651 Sqn
Utility
WAH-64D Apache
HQAHF
Helicopter
Wildcat AH.1
TBC
Helicopter
Royal Air Force
Chinook HC.4
TBC
Helicopter
Hawk
Red Arrows
Aerobatic Team
Lancaster
BBMF
Heavy Bomber
Puma HC.2
33/230 Sqn
Helicopter
Spitfire x 4
BBMF
Fighter
Tucano T.1
72 (R) Sqn
Trainer
Typhoon FGR.4
29 (Reserve) Squadron
Fighter
Vigilant T.1
2FTS
Trainer
Viking TX.1
2FTS
Trainer
Voyager KC2/3
10/101 Squadron
Tanker
Royal Navy
Hawk T.1
736 NAS
Trainer
King Air / Avenger T.1
750 NAS
Trainer
Merlin HC3/3A
815 NAS
Helicopter
Sea King ASaC.7
849 NAS
Helicopter
Wildcat HMA.2
TBC
Helicopter
United States of America
Squadron
Type
US Air Combat Command
F-16 Fighting Falcon
Thunderbirds
Demonstration Team
US Air Force
B-1 Lancer
28th BW
Heavy Bomber
B-52 Stratofortress
2nd BW
Heavy Bomber
F-22 Raptor
Air Combat Command
Fighter
Information supplied by RAFCTE & is correct as of 23/05/2017