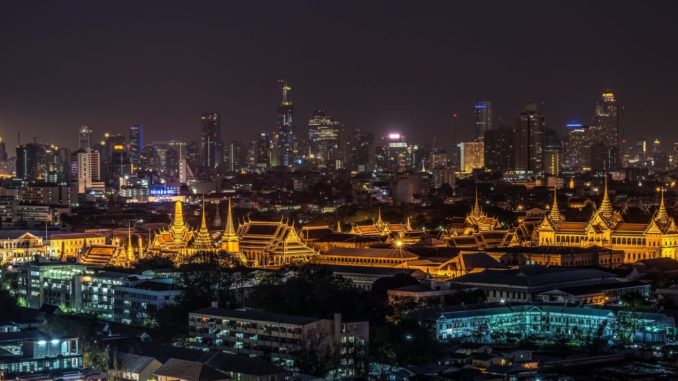 Fly to Bangkok from Cardiff AIrport with Qatar AIrways
With Qatar Airways starting flights from Cardiff Airport on the 1st May we look at the world of opportunities that await the passengers using Wales' National airport. The first in our series is the Thai capital, Bangkok.
Known for its ornate shrines, Buddhist temples and a song sung by Murray head, Bangkok has always attracted travellers from the UK and is a traditional starting point for backpacking adventures in the southern hemisphere.
It is probably no surprise then that Bangkok welcomes more visitors than any other city in the world.
Food
Food in Bangkok is one of the highlights of any visit. All tastes and budgets are catered for from bargain street food to five-star rooftop restaurants. Traditional foods in Bangkok are noodle and rice dishes usually containing shrimp or pork.
 What to see
The temples in Bangkok are world famous and two of the best to see are The Grand Palace  (Wat Prakaew) and Wat Arun. Their structure, beauty and history make them a must-see for any visitor to the city. The Emerald Buddha in Wat Prakaew was carved from a single block of Emerald.
The waterways of Bangkok are also areas no visitors should miss, especially the floating market of Damnoen Saduak where you will find dozens of wooden boats floating by, each one full of fresh fruits, vegetables or flowers. In the Thai equivalent of a drive-through, food vendors fill their vessels with cauldrons and charcoal grills, ready to whip up a bowl of 'boat noodle' or seafood skewers on demand.
Shopping
Bangkok is very much up there with the best cities in the world to shop in. It has street markets, traditional shops and luxury shopping malls.
If you are in town for a few weeks then why not take advantage of one of the most popular trades in Bangkok and get yourself a tailored suit. It will cost a fraction of what it would cost in the UK and of the highest quality.
As with most Asian cities, electronics are also much cheaper than in Western Europe.
Where to stay
Bangkok offers a range of accommodation from backpacking hostels such as the Siamze Hostel & Bed Station Hostel. These cost between £5 and £10 per night.
If you are looking for the luxurious end of the market then one of best is the Shangri-La.
How to get there
You can fly to Bangkok from Cardiff Airport with Qatar Airways (from May 1st) via Doha.
We found direct flights starting at £422 with Qatar Airways. (Travelling in June 2018)