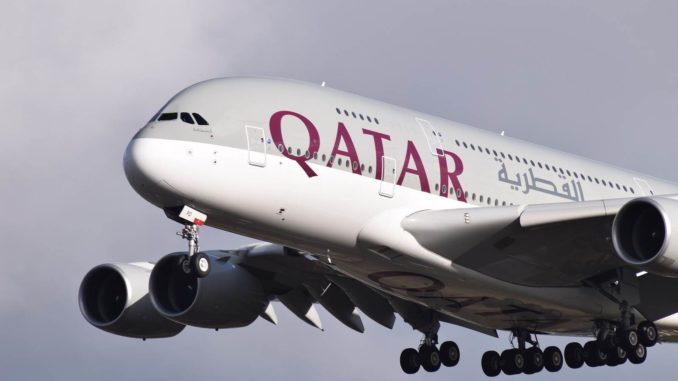 Qatar Airways (QR/QTR) have today announced that they are to launch flights from Cardiff Airport (CWL/EGFF) in 2018 to the Qatari capital Doha (DOH/OTHH).
Attracting long haul carriers has long been a target for Wales' National Airport with Thomson and Thomas cook already offering Montego Bay, Orlando and Barbados as long-haul destinations.
The new connection to Doha offers passengers access to Qatar Airways network of flights including Australia and Asia from their Doha Hub.
The announcement was made at the Arabian Travel Market in Dubai today.
Qatar Airways operate one of the newest fleets in the Middle East with  Boeing 777, Boeing 787, Airbus A350 and Airbus A380 amongst their fleet.
Speaking about the announcement Deb Barber, CEO at Cardiff Airport said; "I am immensely proud that Qatar Airways has chosen Cardiff Airport to operate its new service to Doha. It is fantastic that we will now be able to offer our customers more choice of travel with a world-class airline providing easy connections to destinations across the world.  
More than 1 million passengers per year from our region are travelling to destinations that are on the Qatar Airways network. Over 90% of these passengers are currently travelling via London and this new service will give them the opportunity to fly more conveniently from Cardiff, their local airport. 
 It has been a long journey to get to this stage, with discussions spanning a number of years. Over the coming months we will work with the team at Qatar Airways to confirm the details of the service and look forward to the flights being on sale in the near future." 
Roger Lewis, Chairman at Cardiff Airport added; "This is a 'game changing' announcement for Cardiff Airport and for Wales. The benefits of this relationship will be transformational for both businesses and passengers across the south west of England and for Wales.
I sincerely thank H.E., Mr. Akbar Al Baker, for the trust he and Qatar Airways are placing in us. He is a truly inspirational leader and I am honoured to have worked with him on this project"
Full details of the flights have yet to be announced.