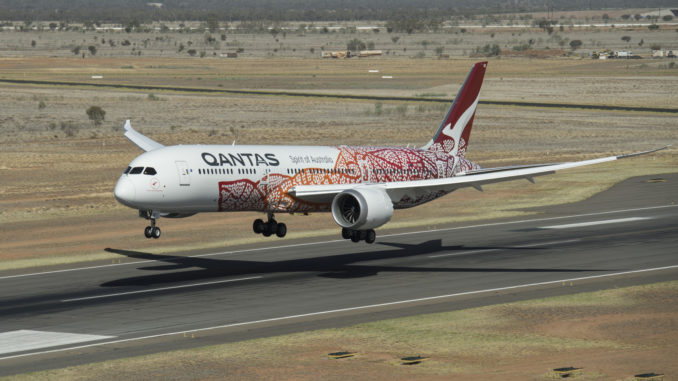 First non-stop Kangaroo Route flight
Australian carrier, Qantas (QF/QFA) is will begin its QF10 non-stop Heathrow (LHR/EGLL) to Perth (PER/YPPH) service tomorrow.
Known as "The Kangaroo Route", the ultra-long-haul flight will take 16hrs 45mins to get to Perth, leaving Heathrow at 13:15hrs and arriving in Western Australia at 13:00hrs the next day.
For many, the thought of spending nearly 17 hours is a daunting one but Qantas is making the flight possible thanks to its very latest aircraft, the Boeing 787-9 Dreamliner, which boasts many features designed to make air travel more comfortable for passengers.
The construction of the Boeing 787 Dreamliner means it can keep the cabin pressurised to a lower level than the average airliner, in fact, it is usually at around 6,000ft rather than the normal 7,500-8,000 feet. This helps to reduce fatigue and the effects of altitude that some people experience.
The 787 Dreamliner is also packed with state-of-the-art technology to reduce turbulence, improve noise quality and reduced aircraft vibrations for a smoother flight.
Qantas has also configured the aircraft to be focused on long-haul travel and with just 236 seats it provides optimal comfort and space for every passenger.
If you are like me and find it tough to sleep on flights then Qantas has also packed in thousands of hours of entertainment onto the seatback screens and with bigger windows, the Dreamliner is perfect for those who want to watch the world go by. The windows in the Dreamliner are 65% larger than comparable aircraft.
When the first "Kangaroo Route flight" took off from London to Sydney in 1947, the service took 4 days and making 7 fuel stops on the way. Tomorrow will mark the first non-stop flight on the route which has only been made possible by advances in aircraft design and fuel economy.
Despite it being the first non-stop flight between UK and Australia, it isn't the worlds longest flight. That honour goes to Qatar Airlines on their Doha to Auckland service.