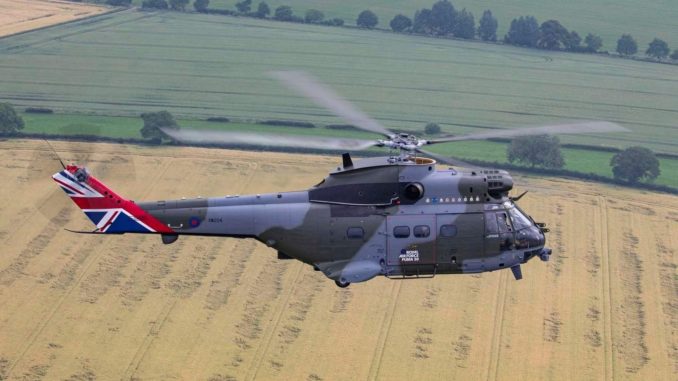 The 50th Anniversary of the RAFs Puma Helicopter fleet is being marked with a fly past around the UK on Wednesday 7th July.
The formation is due to depart RAF Benson at 10am before marking its way up the eastern side of England to RAF Scampton.
After a short break the formation will resume across to the west flying past Chepstow and Boscome down before heading back towards Benson via Salisbury Plain and Warminster.
The formation will be lead by the RAFs specially liveries anniversary Puma.
According to Military Airshow website, the timings are as follows:
1. 513654N 0010545W BENSON AD – 10.00am
2. 514733N 0004416W HALTON – 10.20am
3. 514728N 0004114W TRING – 10.21am
4. 514042N 0004707W WALTERS ASH – 10.26am
5. 513310N 0002511W NORTHOLT AD – 10.35am
6. 513551N 0001419W HENDON – 10.40am
7. 520526N 0000753E DUXFORD AD – 10.58am
8. 522120N 0000706W WYTON – 11.08am
9. 522805N 0001503W CONINGTON AD – 11.12am
10. 523647N 0002833W WITTERING AD – 11.19am
11. 525754N 0003323W BARKSTON HEATH AD – 11.30am
12. 530147N 0002934W CRANWELL AD – 11.33am
13. 530958N 0003126W WADDINGTON AD – 11.45am
14. 531829N 0003303W SCAMPTON AD – 11.49am
1. 531829N 0003303W SCAMPTON AD – 1.30pm
2. 524345N 0014333W ALREWAS – 2.03pm
3. 524936N 0020538W STAFFORD – 2.11pm
4. 525227N 0020949W STONE – 2.13pm
5. 524805N 0024006W SHAWBURY AD – 2.24pm
6. 521430N 0025252W SHOBDON AD – 2.43pm
7. 520451N 0024756W CREDENHILL – 2.48pm
8. 513654N 0023904W CHEPSTOW – 3.04pm
9. 511223N 0020928W WARMINSTER – 3.21pm
10. 511049N 0020520W KNOOK – 3.22pm
11. 510912N 0014504W BOSCOMBE DOWN AD – 3.30pm
12. 510858N 0013413W MIDDLE WALLOP AD – 3.34pm
1. 510858N 0013413W MIDDLE WALLOP – 5.00pm
2. 511255N 0012839W ANDOVER – 5.03pm
3. 511403N 0005634W ODIHAM AD – 5.15pm
4. 511403N 0005634W ODIHAM AD – 5.35pm
5. 511528N 0010355W BASINGSTOKE – 5.38pm
6. 511903N 0010241W BRAMLEY – 5.40pm
7. 511838N 0004905W BLACKBUSHE AD – 5.46pm
8. 512029N 0004544W CAMBERLEY – 5.57pm
9. 511815N 0004313W FRIMLEY – 5.59pm
10. 511631N 0004639W FARNBOROUGH AD – 6.01pm
11. 511403N 0005634W ODIHAM AD – 6.05pm
12. 511403N 0005634W ODIHAM AD – 6.15pm
13. 513112N 0005328W HENLEY – 6.25pm
14. 513654N 0010545W BENSON AD – 6.31pm
Information courtesy of militaryairshows.co.uk