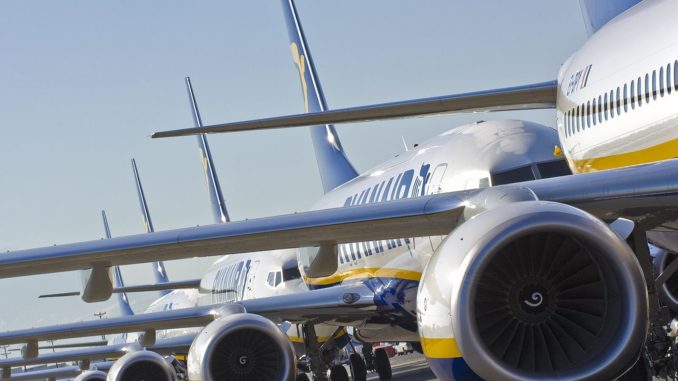 The current pilot crisis is deepening for Ryanair as crews have rejected a financial offer by the budget airline to work through holidays.
The offer, equivalent to €12,000, was rejected by Pilots across Ryanair's bases who in turn have demanded better pay and working conditions.
The current crisis is being officially blamed on pilot holidays but details have been emerging of an exodus of crews to other budget & low-cost airlines such as Norwegian and Jet2 who operate the same type of aircraft as Ryanair.
Norwegian went the extra step of identifying that it had recruited 140 pilots from Ryanair this year alone prompting Ryanair CEO to make a bizarre retaliatory claim that Norwegian had not recruited 140 of Ryanair's pilots and that Ryanair thought Norwegian didn't have the resources to "last the year".
Before the spat, the two airlines had been in talks about passenger transfers.
Further evidence of the pilot crisis has emerged when it became known that Ryanair had been using LinkedIn to actively seek out and offer bounties to trained Boeing 737 captains to join Ryanair.
There have been suggestions of a strike over conditions at Ryanair, an airline where CEO Michael O'Leary had previously referred to pilots as "glorified taxi-drivers".
One Ryanair pilot based in England told us that they had been "abused for far too long and taken advantage of, we see this as an opportunity to get our fair worth and make Michael appreciate that despite all his pr, without us, there is no Ryanair"
Another said "Pilots join Ryanair as they take people with minimal experience, once they have that experience they go to proper airlines with proper pay and conditions. If we had that here, most of us would stay."
The UK's Pilot Association, BALPA has offered to help Ryanair become a more attractive place to work and in a statement, BALPA General Secretary, Brian Strutton, said:: "It seems Ryanair has been just about scraping through the summer schedule and having no flexibility in the system, coupled with a miscalculation of pilot annual leave, has led to this disastrous situation.
"We believe these working conditions are leading to pilots leaving the airline after a few years to go work for other airlines. 
"The company needs to be a career airline, where pilots feel valued, not over-stretched.
"We would be happy to work with Ryanair on this issue to ensure it is an airline where pilots are proud to work. 
"And indeed, we have around 500 unemployed pilot members looking for work who would be more than happy to work for Ryanair, should working conditions be improved in the airline."
The current crisis has caused Ryanair to cancel around 50-60 flights per day bringing disruption and misery to passengers expecting to go on holiday or are stranded abroad, initially, they claimed this was to help improve efficiency.
Ryanair has said they won't be claiming special circumstances and have agreed to pay compensation to every passenger affected. Your rights however state that you can also request to be booked onto a rival carrier to get you to your destination, irrespective of the cost to Ryanair as well as being compensated for the inconvenience.
Flights at Cardiff Airport have not been affected by the current pilot crisis.