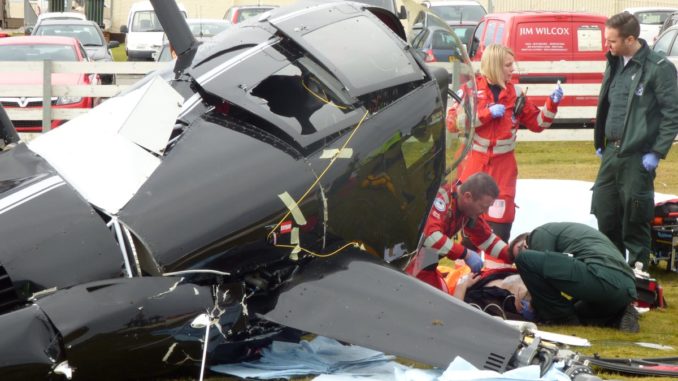 One person has been taken to hospital following a helicopter crash at Perth Airport (PSL/EGPT) in Scotland.
The crash happened as the aircraft was taking and it came down just metres from the Scotland Charity Air Ambulance (SCAA) base at the airport.
Crews from SCAA were amongst the first on the scene and were able to treat the pilot, who was the sole occupant of the aircraft. They were later transported to hospital with leg injuries.
The aircraft, Robinson R44 helicopter G-CHKW, was badly damaged in the accident. The owner of the aircraft is understood to be from the Glenrothes area.
Connor Wonjtowicz, who lives at the airport told the local paper, The Courier:  "I was sitting in my room which is 150ft from where the helicopter came down." adding "I heard it take off and it didn't sound right at all, then there was a big bang."
Scotland's Charity Air Ambulance tweeted "@ScotAirAmb paramedics were first on the scene this morning when a helicopter crashed during ground checks, just 100m from the @ScotAirAmb base. Paramedics worked with @Scotambservice colleagues before the sole occupant was taken to hospital with leg injuries."
Sources have indicated that the pilot was an engineer carrying out tests on the helicopter and witnesses have said the flight was never more than a few feet from the ground.