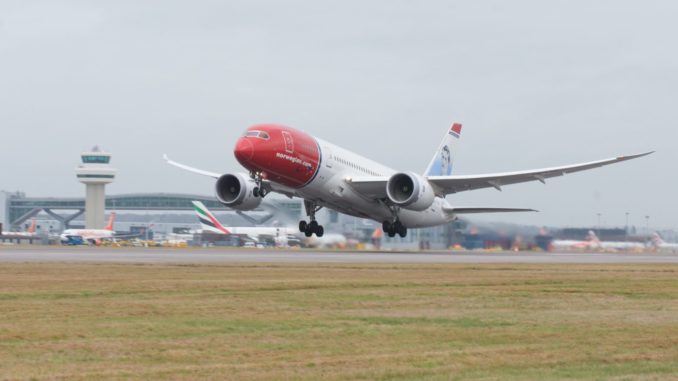 Norwegian Air Shuttle's second-quarter (Q2) figures show increased profitably for the airline as it continues its current financial strategy.
Q2 saw Norwegian, which includes UK & Irish airlines Norwegian Air UK & Norwegian Air International, post operating results of NOK 2.3 billion (before ownership), almost double that of the same period in 2018.
The financial improvements come despite reduced growth and the grounding of the Boeing 737 Max 8 which have been suspended from operations since March. The group has 18 of the aircraft.
The group says its key priority is returning to profitability and is doing this with a series of measures, including an optimised route network and extensive cost-reduction program.
The Q2 period saw almost 10 million passengers fly with groups airlines, with an increased load factor of 88%, up 1.2% from last year.
Coinciding with the release of the Q2 results was the news that Chief Executive Officer (CEO) Bjørn Kjos is standing down with immediate effect to take on a new role as advisor to the chairman.
Speaking about the Q2 results, outgoing CEO Bjørn Kjos said: "Norwegian's Q2 results show that we are delivering on our strategy of moving from growth to profitability. Despite operational issues outside of our control, like the grounding of our 737 MAX fleet, we are delivering the highest second quarter operating revenue in the history of Norwegian. I am also pleased with the booking figures for the coming months, especially on long-haul"
Chief Financial Officer (CFO) Geir Karlsen has been appointed as interim CEO until a permanent CEO found.
Niels Smedegaard, Chairman of the Board of Directors at Norwegian, spoke about the personnel changes: "I am very pleased Bjørn will remain at the company as an advisor to the Board and the Chair. As Norwegian moves from growth to profitability, it will be an advantage for the company to benefit from Bjørn's extensive network, in-depth knowledge of and experience with global aviation. We have already started the process of recruiting a permanent new CEO"
Norwegian carries almost 6 million UK passengers each year from London Gatwick, Edinburgh and Manchester Airports to 30 destinations worldwide and is the third-largest airline at London-Gatwick.