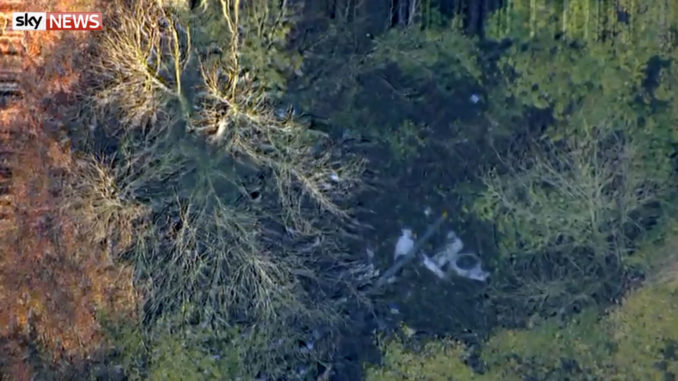 Four people have been killed when an aircraft and helicopter collided in mid-air near Aylesbury, Buckinghamshire earlier today.
The Air Accident Investigations Branch (AAIB) has confirmed it is sending a team to the area to investigate the crash site. it is understood that the wreckage from both aircraft is located near the grounds of Waddesdon Manor, one of the National Trust's most visited properties.
Witnesses describe hearing a loud bang and  seeing the wreckage "plummeting from the sky" which fell just to the south of Waddesdon Manor near the village of Upper Winchendon.
Local journalist Hayley O'Keefe sent this tweet from the scene.
A plane has come down at Waddesdon Hill – currently at scene. More to come as we have it pic.twitter.com/ZLl51n6JnP
— Hayley O'Keeffe (@misshoknews) November 17, 2017
Thames Valley Police said "Thames Valley Police is currently at the scene of an air accident near the village of Waddesdon near Aylesbury.
The force is coordinating the response to the incident which was reported at 12.06pm today (17/11).
The Air Accidents Investigation Branch has been informed and staff are en route to the scene. Fire and ambulance services are also in attendance and preservation of life is first priority.
In consequence of this incident it is expected that there will be some disruption to the road network around Waddesdon for the rest of the day."
South Central Ambulance service had earlier confirmed there were multiple casualties at the scene.
The helicopter is understood to be a Guimbal Cabri G2 belonging to a training & charter operator and had departed Wycombe Air Park (Booker Airfield) just before midday. A 2nd helicopter belonging to the company spent some time searching for the crash site after the accident became known.
The plane is understood to be a Cessna 152, a single engine over wing aircraft popular with with flying clubs and schools.
A spokesperson for Wycombe Air Park, approximately 23 miles south of the crash site, confirmed that both aircraft had left Wycombe Air Park.