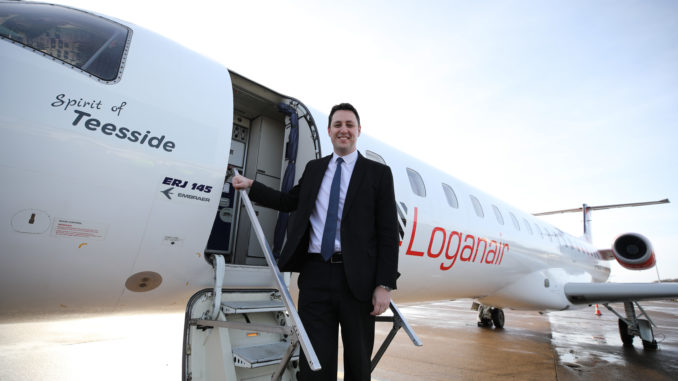 The UK's biggest regional airline Loganair (LM/LOG) has announced it is launching a direct service between Teesside International (MME/EGNV) and London Heathrow (LHR/EGLL).
The service will initially operate twice-daily on Monday to Friday from 8th March with a single flight on Sundays.
This will increase on 28th March to add a flight on a Saturday mornings and two on Sundays.
Loganair has interline agreements with several airlines using Heathrow allowing passengers to book flights from Teesside to almost all corners of the globe on a single ticket via Heathrow.
The airlines include British Airways, Air France/KLM, Emirates, Turkish Airlines, United Airlines and Qatar Airways.
Loganair chief executive Jonathan Hinkles said: "We understand the uncertainty around travel right now and are therefore pleased to be able to look towards the future by providing what Teesside International will need as and when lockdown restrictions begin to ease. 
"We're very happy to be returning to Teesside International, and we are back for good. We look forward to working with the team at the airport and the wider Tees Valley Combined Authority.   "There's no doubt that air travel is having a difficult time right now, but I'm confident that our plans for Teesside International are both viable, appropriate and flexible now and for the longer term."
Weekday operations see flights leave Teesside at 06.50 and 17.55, with return journeys leaving Heathrow at 08.50 and 19.50 giving passengers the opportunity for a full working day in London from the North-East.
Loganair has also named one of its Embraer ERJ145 aircraft "Spirit of Teesside" to celebrate the launch of the new route.
Tees Valley Mayor Ben Houchen said: "Securing flights into the capital with Loganair is another feather in our airport's cap. The fact that in the next few days you will be able to go on to the websites of the likes of British Airways, Qatar and United Airlines and book flights from Teesside to hundreds of destinations across the globe shows just how far we've come since taking the airport back into public ownership and saving it from closure less than two years ago."