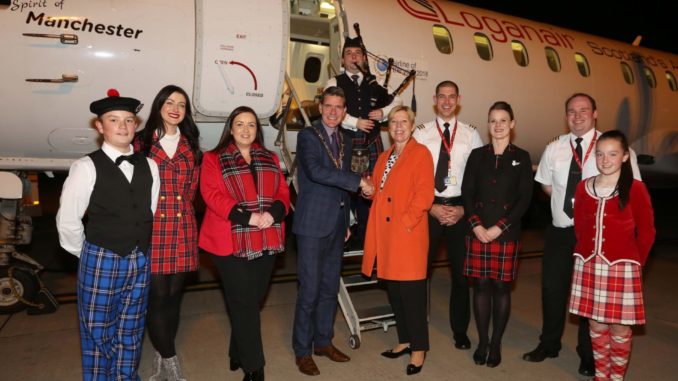 Scottish airline Loganair (LM/LOG) has launched its new service from Glasgow Airport (GLA/EGPF)  to Derry (LDY/EGAE), Northern Ireland.
The route marked the first time Loganair has flown to Derry in 10 years as it took over from Irish budget airline, Ryanair who ended the link last week.
The route will operate five-times-per-week with a 33-seat Saab 340 aircraft on Monday, Thursday, Friday and Saturday with a larger, 50-capacity Saab 2000 aircraft on its Sunday flight but the airline plans to move it to a jet service with an Embraer regional jet in 2019.
Kay Ryan, Loganair's Commercial Director said: "Loganair has a relationship with City of Derry Airport which spans across three decades, so everyone is extremely excited to have the route in our network map once again.
"The cities and their populations share very close connections, and this is being reflected via ticket sales. Whether it is family ties or football teams, business or leisure, this is a popular link in both the West of Scotland and Derry.
"We're also pleased to be able to offer onward connections through Glasgow with our large network of airline partnerships including Emirates, KLM, Air France and Thomas Cook, allowing for global travel, often on one-ticket."
Mrs Charlene Shongo, Airport Manager for City of Derry Airport stated: "We are absolutely delighted to welcome Scottish Airline, Loganair, back to City of Derry Airport – this is a very welcome boost for both the Airport and the wider North West region."
Derry is Loganair's 12th destination from Glasgow Airport and comes on the back of its other new services to Guernsey and Donegal.