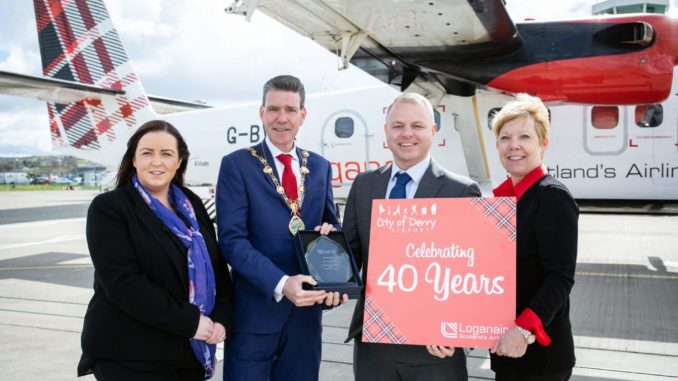 Scottish regional airline Loganair (LM/LOG) is celebrating 40 years of flying between Glasgow (GLA/EGPF), Scotland and Derry (LDY/EGAE), Northern Ireland.
April 1979 saw the airline fly its first flight between the two airports using a
de-Havilland DHC-6 Twin Otter with 19 seats and to celebrate the milestone, the airline recreated that flight.
A Twin Otter flown by Captain Fraser Beaton made the trip across the Irish Sea, and was met by an awaiting delegation of VIPs at the airport including Loganair's managing director, Jonathan Hinkles and Councillor John Boyle, Mayor of Derry City and Strabane District Council.
Loganair resumed the route between the two cities last year, after it ended in 2008, and flies five days per week using a somewhat larger Saab 340 aircraft.
Paul White, Head of Aviation at Glasgow Airport, said: "We are very proud of the long and fruitful relationship we have enjoyed with City of Derry Airport over the last four decades.
 "This historic route has proved extremely popular with our passengers throughout the years and the service continues to thrive in both directions."
Charlene Shongo, Airport Manager at City of Derry Airport, added: "We are so proud to have Loganair, who have been such an important and symbolic part of the history of our airport, back at the heart of our modern commercial operations."
Loganair also operates the Public Service Obligation (PSO) route from Derry to London Stansted (STN/EGSS) and next month will start flights from Derry to Manchester (MAN/EGCC).