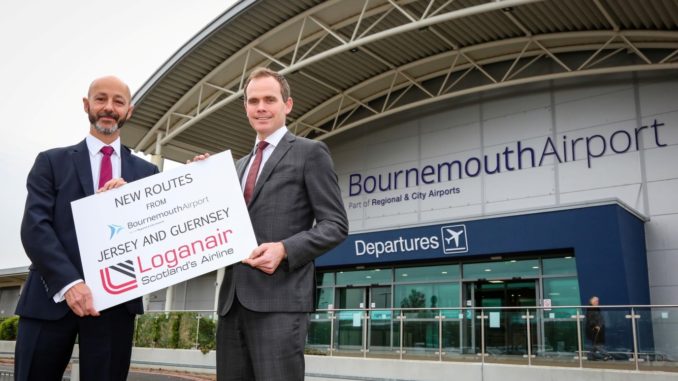 Scottish airline Loganair (LM/LOG) has announced it is launching two routes from Bournemouth Airport (BOH/EGHH) to the Channel Islands for 2019.
The seasonal flights to Jersey and Guernsey will operate for Summer 2019 from April to October.
Operated by a 37-seat Embraer 135 Regional Jet, the flights will be six-times per week (not Sundays) for Jersey (JER/EGJJ) and every Saturday for Guernsey (GCI/EGJB).  The flight time using the regional jet is approximately 45 mins to Jersey and 40 mins to Guernsey.
The flights will also be the first for the airline from Bournemouth but Loganair's Managing Director, Jonathan Hinkles hints that they wont be the last: "Our two new routes to Jersey and Guernsey will make travel to these popular leisure and corporate destinations more convenient for passengers within Bournemouth Airport's large catchment area.
"This will be our first commercial presence at Bournemouth Airport and we look forward to our 'Tartan tails' being a regular sight over the South Coast."
Stephen Gill, Managing Director, Bournemouth Airport added: "We warmly welcome Loganair and its cabin crews to our growing regional airport, where 35 destinations in 15 countries are being served.
"We anticipate keen interest in flights to Jersey and Guernsey from holidaymakers, weekenders and the business community across Dorset, west Hampshire and south Wiltshire.
"There is no doubt that quality carriers such as Loganair can see the benefits of operating from a customer-focused regional airport, providing convenience for passengers and saving on time and cost in travelling to alternative airports."