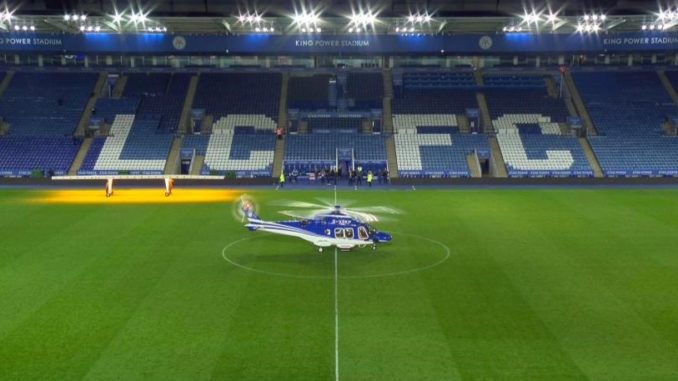 A helicopter belonging to Leicester City owner Vichai Srivaddhanaprabha has crashed outside of the stadium after taking off after today's match.
Leicester City has officially confirmed Mr Srivaddhanaprabha was on board at the time of the accident and died along with 4 other people including the pilots.
Leicester City owner's helicopter has crashed into the car park outside the ground & burst into a ball of flames. Awful scenes. pic.twitter.com/M7INaCWf4K

— Dave Palmer (@DaveyPalmer1) October 27, 2018
The Augusta Westland Aw169 helicopter (G-VSKP) took off, as it always does, from the pitch after the match but according to local sources it lost control shortly after leaving the King Power Stadium before crashing into a car park near the stadium.
The two-year old AW169 is a dual engine helicopter powered by two Pratt & Whitney PW210A engines making a sudden loss of all engine power unlikely. According to witnesses, the tail rotor, the part that provides directional control to the aircraft, stopped or slowed causing loss of control.
The aircraft came to rest on its port side in a car park. Local sources have cited that two police officers who were first on the scene tried to break the window of the crashed helicopter but were forced back by the post crash fire.
The Air Accident Investigation Branch (AAIB) has confirmed it is sending a team to the crash site.
Players fans and the footballing community have been paying their respects to the Leicester City owner who is credited with turning around the fortunes of the club. Former Leicester City player Gary Lineker tweeted:
That was the most difficult @BBCMOTD I've ever hosted. Thoughts are with everyone at Leicester City. A terrible tragedy. Heartbreaking.

— Gary Lineker (@GaryLineker) October 27, 2018