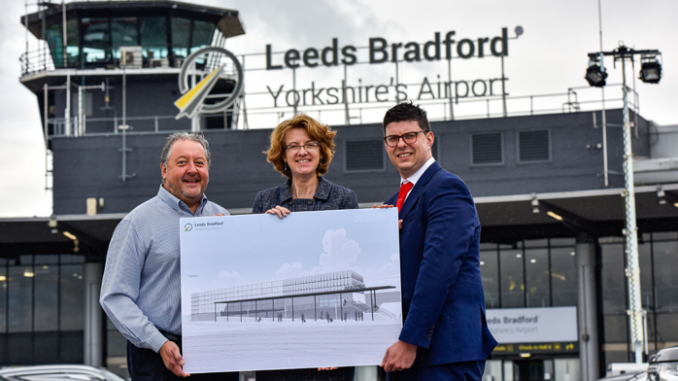 Leeds Bradford Airport (LBA/EGNM) has announced that plans to build a "state-of-the-art" terminal extension by the end of 2019.
The £12m three-storey terminal extension would accommodate new, larger departure gates, seating areas and new retail, food and beverage outlets as well as a revamped international arrivals process, including immigration, baggage reclaim & customs.
Once work on the new extension is complete, the airport plans to revamp the existing terminal in order to simplify the customer journey through the existing departure lounge, that is expected to be complete for summer 2020.
The final phase will include the construction of a new pier, replacing the current passenger walkway with a two-storey structure, housing arrivals at ground level, and departures being processed at additional new boarding gates on the first floor.
David Laws, Chief Executive at Leeds Bradford Airport, said: "These really are exciting times for this airport and we are delighted to be able to now share our plans for phase two of our terminal redevelopment.
"This new extension will transform the experience for both departing and arriving passengers whilst also adding a 'sense of place and pride' throughout the terminal, as we want to play our part in creating a great first impression for inbound visitors.
"A thriving region needs a thriving airport and we hope the people of our great county will see these latest plans as a real statement of intent as we continue to strive to create an airport Yorkshire can be proud of."
Henri Murison, Director of Northern Powerhouse Partnership added: "The Northern Powerhouse future relies on connectivity, whether it be in transport terms to key European export markets by flight to digital connectivity. This investment by Leeds Bradford Airport here in Yorkshire is a sign of their confidence and commitment to helping businesses here to grow and attracting inward investment.
"At the same time, we see commitment from city leaders and the combined authority to improve the journey to the airport with a link planned on the Leeds to Harrogate rail line. This is why the airport will keep growing the number of destinations available to business and leisure travellers – transformed facilities and lounges already, more capacity and more choice on how to get here from across the region."