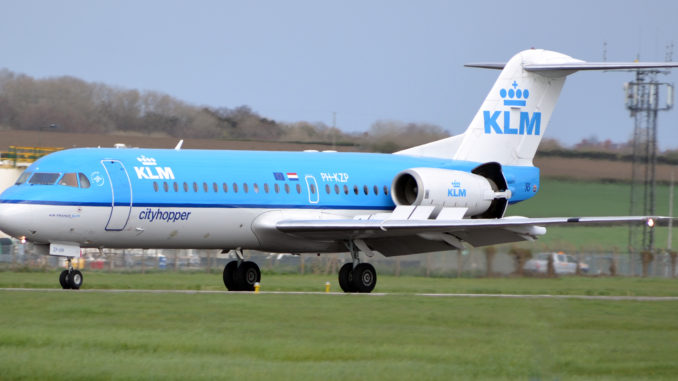 Dutch airline KLM (KL/KLM) is operating its final Fokker F70 flight from Cardiff Airport today, the day before the type retires from service with the airline.
The Fokker F70 has been a regular sight at Cardiff Airport operating the daily services between Cardiff Airport (CWL/EGFF) and Amsterdam Schiphol (AMS/EHAM) and have been a favourite of many customers, and crews.
First flown in 1993, the Fokker F70 was designed to be a short to medium range airliner capable of carrying around 70-80 passengers. The F70 and its bigger brother the F100 came at a time when Fokker was struggling resulting in the Dutch Government bailing them out to the tune of 212 million Guilders (around £90m GBP). Due to competition from Boeing and Airbus, sales for the both the F70 and F100 were much lower than expected however leaving no surprise that KLM is the largest operator of the type.
In total, just 47 F70's were built.
To mark the withdrawal from service KLM had one aircraft, PH-KZU, painted into a special livery to mark the companies founder, Anthony Fokker. The company was started in Germany in 1912 before it moved to the Netherlands in 1919. The most famous Fokker types coming during the First and Second World Wars when it built aircraft including the iconic DR1 Triplane, made famous by The Red Baron.
Fokkers own demise came in 1996 when the company formally went bankrupt.
KLM is replacing the type with modern Embraer 175 jets.
The final Fokker F70 flight from Cardiff Airport departed Cardiff Airport this morning at 09:30 as KLM1059.