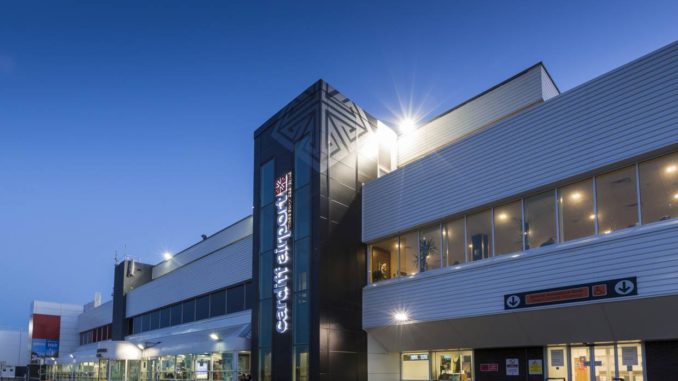 Cardiff Airport has reported pre-tax losses of £5m for 2016-2017 financial year and revenues were also down around £400,000 from just over £17m to £16.6m.
The losses are an increase of £1m over the 2015-2016 losses of £4m. Despite the increase, the airport reports it is on track with its 5-year financial recovery plan.
Passenger numbers at the Welsh Government-owned airport have been steadily increasing with estimates putting 2017 growth at around 6-8% for the year although official figures from the Civil Aviation Authority (CAA) are yet to be released.
Part of the long-term plan at Cardiff is to make the airport more attractive to investors, the Welsh Government is coming under increasing pressure about its ownership of the site with many believing it should have sold part of the business to private investors. First Minister Carwyn Jones recently said that he was "not wedded" to the idea of the Welsh Government being the majority owner of the airport giving his first hint at private investment.
The airport has been undergoing a series of investments which saw the capital expenditure hit £3.6m during the last financial year, this included 3 brand new fire engines and terminal upgrades.
Passenger figures for 2016 stood at 1.36m and 2017 is expected to be around 1.47m but with the airport aims to get to 2m by 2020, that growth would require a significant upward trend in passenger figures, however. If that goal is achieved then the value of the airport could be as high as £120m, a much more attractive prospect to potential investors.
Qatar Airways, which launches its daily Doha flight in May, brings a potential extra 150,000 passengers to the 2018/19 financial year however that is likely to leave the airport around 1/2m short on its target going to 2019/2020 and it's not immediately obvious to see where the airport can pick up those numbers.
Sources have said that the Welsh Government and Cardiff Airport are trying to woo at least one transatlantic airline as well as a second carrier from the Middle East and it is hoped that Qatar Airways success will attract feeder options, not just for existing airline Flybe, but a potential new carrier, possibly a low-cost carrier. But no matter how you look at it, even with Qatar Airways,  finding over 500,000 passengers in 2 years is a very big ask.
Freight is another potential source of revenue for the airport. The requirement for freight between the Middle-east and Wales does exist and each of Qatar Airways Boeing 787-8 Dreamliners can take around 15t of cargo.
If freight services were to grow at Cardiff Airport it has the characteristics that could attract large freight organisations thanks its large runway, light traffic and thanks to a new road that is being planned, easy access to the M4.
It is certainly an avenue that many want to be explored and comparisons with East Midlands airport have been regularly made.
As for the immediate future, Cardiff Airport needs to attract new routes and new airlines if it is to meet its target of 3m passengers by 2025. Its current growth rate is going to leave it falling well short but in order to do that, it has to play to its strengths.
If the airport tries to compete with neighbouring Bristol Airport on equal terms then it will fail. This year Bristol went over 8.1m passengers, a large portion of that number made up of Welsh passengers, so convincing established airlines to choose Cardiff over Bristol would be an almost impossible task. Cardiff, therefore, has to take advantage of its longer runway and focus on medium to long haul flights acting as a gateway to Wales and the Southwest of England in a way it has with Qatar Airways.
Devolution and reduction of Long-Haul Air Passenger Duty (APD), which has been called for not only by the Airport but the travel Industry and business across Wales, would make Cardiff Airport very attractive to long-haul airlines and could well be the difference between success and failure. If only Alun Cairns, Welsh Secretary & MP for the Vale of Glamorgan wasn't so committed to not devolving it.