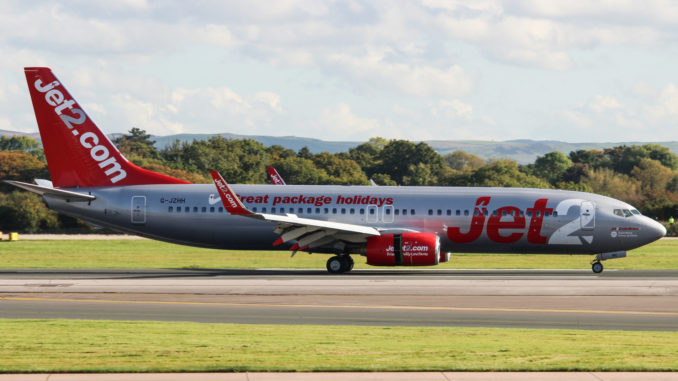 UK Leisure airline Jet2 (LS/EXS) has announced more new routes from Birmingham and Belfast for Summer 2018.
Birmingham Airport (BHX/EGBB) sees 4 new routes including Bodrum, Dalaman, Dubrovnik and Venice where Belfast (BFS/EGAA) sees Dalaman added to its network.
The airline, which has enjoyed a long period of growth, is adding a significant number of routes for Summer 2018 with new routes previously been announced at Edinburgh, Belfast, Birmingham, Manchester, London Stansted, Glasgow and Newcastle.
These latest routes are in addition to those already announced. Some of the airlines Summer 2018 highlights include Kos, Pisa, Naples and Thessaloniki.
New Jet2 routes announced for S18
| | | | |
| --- | --- | --- | --- |
| Departing | Destination | Start Date | Times per week |
| Belfast | Dalaman | 26th June | 1 |
| Belfast | Antalya | 3rd May | 1 |
| Belfast | Almeria | 5th May | 2 |
| Belfast | Funchal | 30th April | 1 |
| Belfast | Heraklion | 7th May | 1 |
| Belfast | Naples | 4th May | 1 |
| Belfast | Paphos | 2nd May | 1 |
| Belfast | Rhodes | 4th May | 1 |
| Birmingham | Almeria | 3rd May | 2 |
| Birmingham | Antalya | 30th March | 2 |
| Birmingham | Bodrum | 29th May | 1 |
| Birmingham | Dubrovnik | 29th May | 2 |
| Birmingham | Dalaman | 4th May | 3 |
| Birmingham | Kos | 3rd May | 2 |
| Birmingham | Larnaca | 31st March | 2 |
| Birmingham | Malta | 1st April | 1 |
| Birmingham | Naples | 1st April | 1 |
| Birmingham | Pisa | 6th May | 2 |
| Birmingham | Rome | 30th March | 2 |
| Birmingham | Split | 6th May | 1 |
| Birmingham | Thessaloniki | 3rd May | 1 |
| Birmingham | Venice | 25th May | 2 |
| Birmingham | Zakynthos | 5th May | 2 |
| Edinburgh | Antalya | 3rd April | 1 |
| Edinburgh | Kos | 2nd May | 1 |
| Glasgow | Kefalonia | 9th May | 1 |
| Glagow | Thessaloniki | 8th May | 1 |
| Leeds/Bradford | La Rochelle | 26th May | 1 |
| London Stansted | Almeria | 10th May | 2 |
| London Stansted | Bodrum | 3rd May | 1 |
| London Stansted | Kefalonia | 5th May | 1 |
| London Stansted | Malta | 31st March | 2 |
| London Stansted | Napoles | 29th March | 2 |
| London Stansted | Nice | 4th May | 3 |
| London Stansted | Thessaloniki | 5th May | 1 |
| London Stansted | Verona | 9th May | 1 |
| Manchester | Bergerac | 26th May | 1 |
| Manchester | Verona | 9th May | 2 |
| Manchester | Thessaloniki | 3rd May | 1 |