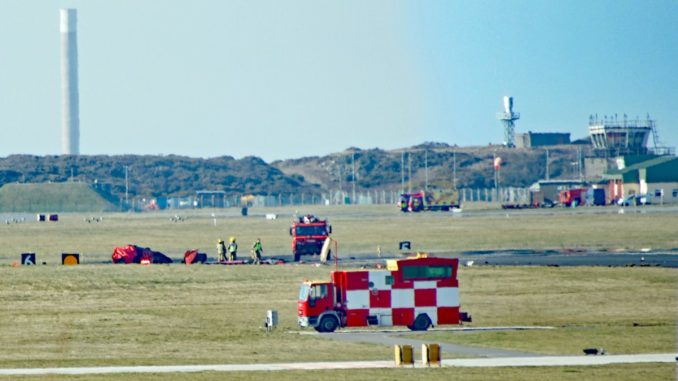 RAF Engineer dies and Pilot receiving medical treatment
The investigation into the fatal Red Arrows crash at RAF Valley is continuing today as air accident investigators try to piece together what happened.
It was around 13:30hrs yesterday when the Red Arrows took off from RAF Valley to fly back to RAF Scampton, their home base. The Reds had been at RAF Valley for Hawk refresher training, a routine occurrence.
Just after takeoff witnesses saw one of the jets attempt to return to the airfield with at least one person saying it did a loop of the airfield and was "wobbling" on approach. The aircraft then crashed into the airfield.
We now know that the pilot was able to eject and is receiving medical treatment but sadly the rear seat occupant, an RAF Engineer died in the crash. RAF Engineers who fly with the Red's are known as "The Circus" and it is a highly prized role reserved for the very best engineers.
North Wales Police attended the scene are appealing for anyone who witnessed the crash, or the events leading up to it to contact them. Chief Inspector Barrasford said: "North Wales Police are appealing for help from the public and local communities and so I'd ask if anyone sighted the Hawk aircraft this afternoon to contact North Wales Police via the live web chat http://www.north-wales.police.uk/contact/chat-support.aspx or by phoning 101."
The Royal Air Force (RAF) have asked that anyone with any photos send them, in their tweet they said:
Following the aircraft incident at RAF Valley earlier this afternoon, if you were an eyewitness, please send any photographs of the incident to rafwebadmin@btconnect.com. Any images may help with an investigation. Please DO NOT share these online. Please be sensitive, thank you.

— Royal Air Force (@RoyalAirForce) 20 March 2018
RAF Valley is home to the RAF's No4 Flying Training school (4 FTS) and the Defence Helicopter School. Pilots on 4 FTS train to fly fast jets using 4 Squadron BAe Systems Hawk T2 aircraft before moving onto frontline Typhoon and Tornado Squadrons. The Red Arrows famous red jets are the older BAe System Hawk T1A model.
The investigation will involve North Wales Police, Military and Civilian Air Accident Investigators.
RAF Valley remains closed at the moment with the Intra-Wales Airlink operating to from Cardiff Airport to Chester/Hawarden Airport until it re-opens.