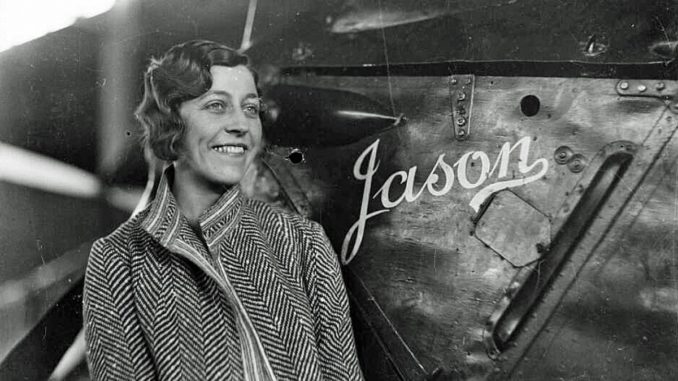 International Women's Day 2018 is a chance to celebrate women and in aviation, they don't come any bigger than Amy Johnson.
Amy Johnson CBE was born in Kingston Upon Hull in 1903 and after leaving university with a degree in Economics took up a job in London as a solicitors secretary.
She was introduced to flying as a hobby and obtained her pilot's licence (known as a Pilots A Licence) in 1929. Later that same year she became the first woman to be granted an Engineers C Licence.
With the help of her father, she purchased her first aircraft, a DeHavilland DH.60 Gypsy Moth G-AAAH. It was in this aircraft that she completed the flight that would ensure her place in the history books and gain her worldwide notoriety.
Record breaker
In 1930, Amy Johnson took off from London's Croydon airport in G-AAAH and some 11,000 miles later, touched down in Darwin, Australia. The first woman to ever fly the route solo.
The next year, in 1931 she flew from London to Moscow in 1 day, continuing the flight across Siberia to Tokyo setting a new record from Britain to Japan.
She continued to set records in aviation including flying from Britain to South Africa and also flew from Pendine Sands in Wales to New York, although that flight nearly ended in disaster when the aircraft crashed in Connecticut after running out of fuel.
During the Second World War, Amy Johnson flew for the Air Transport Auxillary (ATA) whose task it was to move Miltary aircraft around the UK for the Royal Air Force.
Untimely death
Unfortunately, in 1941, luck ran out for Amy Johnson when during a flight from Prestwick to RAF Kidlington she lost her bearings in bad weather and when the Airspeed Oxford ran out of fuel she was forced to bail out near the Thames Estuary.
Her body was never recovered.
Legacy
Her exploits have gone on to inspire many women in aviation and she not only shattered flying records but actually dominated in what, even now, is a very male-dominated industry.
In 2015, Easyjet launched the Amy Johnson Initiative in a bid to encourage more women to join the airline as pilots. By 2020 the airline wants to 20% of its new entrants to be women.
In 2017 Norwegian unveiled Amy Johnson as one of its tail fin images and her picture now adorns the tail of a Boeing 787 Dreamliner and also a Boeing 737-800.
The University of Sheffield also has the Amy Johnson Building which houses the department of Automatic Control and Systems Engineering.
As Ay Johnson continues to inspire so many women in aviation, its only fitting that in 2018 we honour her for International Women's Day 2018.