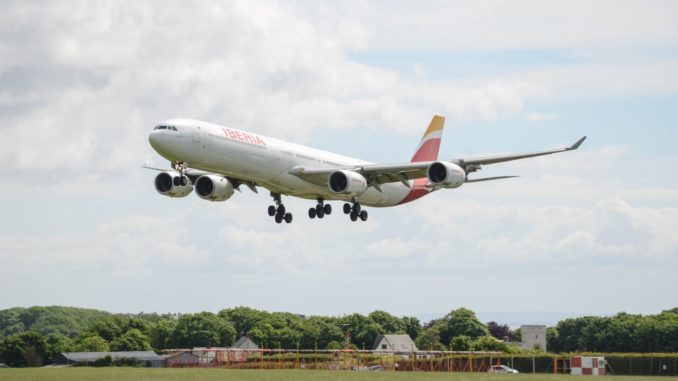 Spanish flag carrier Iberia (IB/IBE) has confirmed the retirement of its remaining Airbus A340 fleet.
The news that that the airline would bring forward the retirement its final 14 Airbus A340-600 aircraft was given to staff in an internal memo and later confirmed by the airline.
Iberia is the only European scheduled airline still using the type since Virgin Atlantic retired their final A340 earlier this year.
Iberia had originally planned to keep the A340 flying until 2025, reducing the fleet over the period 5 year period but the travel restrictions imposed by the Coronavirus pandemic has caused many airlines to retire their older less-efficient aircraft types.
The A340 was one of Airbus less successful airliners with only 377 being delivered to airlines during the 15 years it was produced. It first flew in 1991 and production of the type ended in 2005.
Several A340's have gone on to have second lives with charter companies with some involved directly with the coronavirus effort in Europe. Maleth Aero have been using ex-Virgin Atlantic A340s, converted by European Aviation Group in Bournemouth, to bring in vital PPE equipment to the UK.
Specialist charter airline Hi Fly also operates six A340 aircraft.
Iberia will use newer Airbus A350-900XWB aircraft on the routes previously operated by its A340.