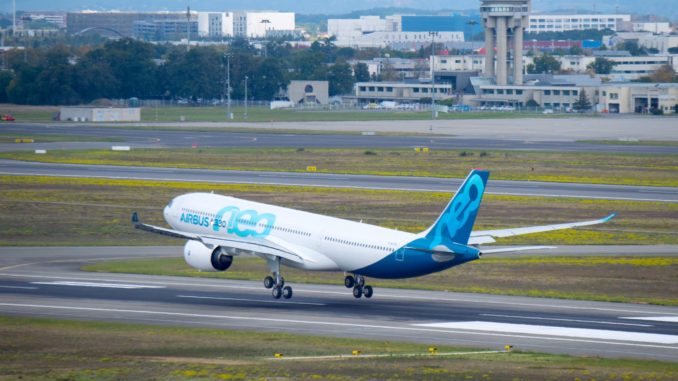 The Airbus A330neo has taken to the skies for its maiden flight from Toulouse, France.
Departing from Toulouse-Blagnac Airport on Thursday 19th October, No. 1 A330neo was put through its paces during a four hour and 13-minute flight to evaluate the basic handling and operation of the aircraft.
Airbus employees along with airline executives, industry suppliers and air transport officials watched the milestone takeoff and landing.
The first A330neo is an A330-900 which will enter airline service by mid-2018. Airbus says that the -900 will become the lowest seat-mile-cost jetliner in the 300-passenger widebody category.
The A330neo combines the proven design of the A330, the worlds best selling mid-size widebody aircraft, and combines it with technologies designed to the A350 series.
Fabrice Brégier, Airbus COO and President of Airbus Commercial Aircraft said: "Today's first flight of the A330neo marks yet another milestone along the Airbus journey of continuous innovation." He added: "My congratulations and thanks go to all the teams who have contributed to make today's flight happen, and to our customers for choosing this very efficient and capable aircraft to give them market advantage. We look forward to a successful flight test campaign and entry into service of the A330neo in 2018."
The development programme will comprise 1,100 flight hours for the A330-900 campaign and aims to achieve its EASA and FAA Type Certification around the middle of 2018.
The full flight-test campaigns for both models will be performed by two A330-900s and one A330-800.
The most visible new features of the A330neo are the new wings, which are made at Airbus' UK plant in Broughton, North Wales. It has specially developed curved wingtip Sharklets – which draw on A350 XWB technology. Less visible, but equally important is the implementation of enhanced 3D-optimised aerodynamic refinements along the overall wing profile.
The other major UK contribution are the engines. Both types are powered by Rolls-Royce's latest Trent 7000 turbofan engines. The Trent 7000s deliver double-digit fuel burn improvements and the quietest operation thanks to latest technological advances including a slower-rotating front fan which has a bypass ratio of 10:1 – compared with the typical 5:1 ratio of previous-generation turbofans.
Airbus currently has orders for 212 A330neos which TAP Air Portugal being the launch customer.